2023 BSG-MSRP-Bio Program draws to a close with lively poster session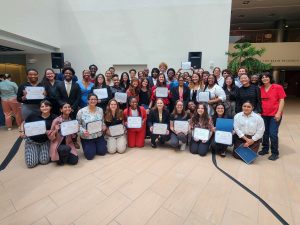 For more than 40 students from across the globe, the summer was filled with days in the lab experiencing cutting-edge scientific research which culminated in a bustling poster session in August.
Lillian Eden
For 45 undergraduate students from institutions across the US, the summer was filled with days in the lab experiencing cutting-edge scientific research. 
The Bernard S. and Sophie G. Gould MIT Summer research program in Biology (BSG-MSRP Bio) provides undergraduates the chance to work full-time in labs and see behind the curtain of the science—and life—they could have if they decided to pursue graduate studies in scientific research. 
The program is offered in collaboration with MIT's Department of Brain & Cognitive Sciences (BCS) and the Center for Brains, Minds, and Machines (CBMM), with students working in labs affiliated with the Biology Department, BCS, CBMM, the Department of Chemistry, and the Whitehead Institute. 
The students' work culminated in a bustling poster session at the beginning of August, hosted by the Picower Institute for Learning and Memory. 
"As always, the poster session was a lively and inspiring event, as students presented results that they sometimes obtained in a rush just days before," says MIT Biology Department Head Amy Keating. "It was a challenge to see all the posters I wanted to, with people standing several rows deep around the speakers, eager to learn about the new science."
The purpose of the MSRP-Bio program is to provide an intensive research experience to students who do not have access to cutting-edge research facilities at their home institutions– and to introduce them to MIT. The program offers professional development by bringing in faculty as guest speakers throughout the ten weeks of the program and provides resources like campus housing, stipends, mentoring, and trips around Massachusetts.
Since its inception, MSRP-Bio has left a mark both on the students and on the MIT community. For example, Associate Professor of Biology Joey Davis' connection to the MSRP-Bio program threads through his career as a researcher.
The MSRP-Bio program launched in 2003, two years before Davis began as a graduate student at MIT. Some students in his graduate student cohort—some who are now his colleagues, including Associate Professor of Biology Eliezer Calo and Assistant Professor of Biology Francisco Sanchez-Rivera were among the initial participants of the MSRP-Bio program. Davis' first graduate student attended the program, and so did three of his current graduate students. Two students who worked in his lab last summer as part of the program are also returning to pursue PhDs in the Department of Biology this fall.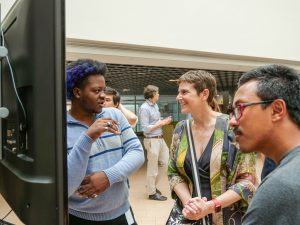 "The MSRP students get to hang out with current graduate students and get a sense of the people that you can form lifelong relationships with," Davis says. "What does it look like to be a scientist? What would my peers be like? It's a pretty unique opportunity." 
Davis credits Senior Lecturer Mandana Sassanfar, who spearheads many outreach activities, for her expansive work identifying students who would thrive at MIT and giving them research experiences that aren't available at their home institutions. 
"It's hard to identify folks that haven't had these opportunities before, even though they are so, so capable," Davis says. "It's incredible what Mandana has been able to do."
Since the program began, hundreds of students have participated. The majority went on to enroll in PhD or MD/PhD programs at MIT and other highly-ranked graduate programs nationwide. Almost two dozen are now faculty at various institutions across the U.S. 
For some attendees, the poster session was a blast from the past. Chidera Okeke said her time in the lab of Professor of Biology Adam Martin as an MSRP-Bio student and Gould Fellow was what convinced her to apply to the PhD program. Okeke, a Fisk University alumna, is now a second-year graduate student at MIT in the lab of Class of 1922 Career Development Professor and Whitehead Institute Core Member Olivia Corradin.
"It was the only program I saw that really mirrored grad school and the day-to-day of what it would look like as a PhD student—lab meetings and extracurricular activities," she says. "I also found out a lot about the application process. People were very transparent about it, and everyone was just genuinely nice."
She noted, however, that 2021—the year she was a summer student—was the last year of physical posters. Students, since then, have displayed their posters on large TV screens with iPads that allow them to navigate their posters, and the posters include time reminders for when a session is drawing to a close.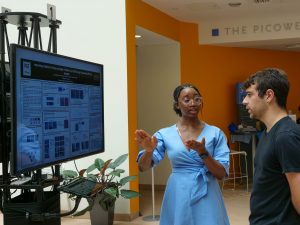 "I honestly prefer the e-poster because I could zoom in," says MSRP-Bio student Fareeda Abu-Juam, a College of Wooster undergraduate and novice computational biologist who worked in Davis' lab this summer. She squeezed extra images onto her poster and used the zooming capabilities to better display them for people asking questions.
Because the attendees at the poster session come from different research backgrounds, Abu-Juam says it was an excellent opportunity to answer questions she hadn't considered before. 
"It's great that so many people came out to support undergraduates. It's nice to be in a place where they're supporting us like that," said Christina "CJ" Volpe, a student in the lab of Howard S. and Linda B. Stern Career Development Professor and Intramural Faculty at the Koch Institute Stefani Spranger. "I've never been at an institution where they're doing cutting-edge research. Investigating something that has never been done before. It was an amazing experience. I don't know how I'm going to go back to my home institution now."
Cyrille Teforlack, an undergraduate from Bethune Cookman University who has been working on flatworm eye regeneration in the lab of Professor of Biology and Core Member and Associate Director of the Whitehead Institute Peter Reddien, says he's had plenty of practice for the poster session. Between discussing their research informally with fellow 2023 MSRP-Bio students and presenting in lab meetings throughout the summer, MSRP-Bio students have many opportunities to build confidence in discussing their work.
"I've gotten really good feedback from people," he says. "The questions they asked made me think about different questions to think about for my own project."
Some students also had the opportunity to see what the work was like for newer faculty still in the process of setting up their labs—a helpful thing for those considering academia. MSRP-Bio student Nina Greeley spent the summer in new Whitehead Institute Fellow Lindsey Backman's lab. Backman, who opened her lab at the Whitehead Institute to study the proteins of anaerobic bacteria in the human microbiome just last year, also participated in the MSRP-Bio program. 
As for what advice Greeley would give to students doing poster sessions for the first time, Greeley had this to say: "People want to know why your work is relevant. Keep it simple. Explain what you did, the result, and how you think the lab will go in future directions."