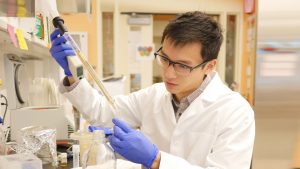 Graduate training at MIT Biology is an intense and collaborative program designed to provide students with the research and communication skills required for a successful career as a research scientist.
What makes our program special:
But don't take our word for it. Hear what our students have to say.
The office of institutional research provides admission, demographic, and time-to-degree data for MIT programs. Learn more
"MIT Biology encourages graduate students to get a flavor of different sub-areas within biology, and that was the fit that I was looking for. I have come to realize that the program is all I expected and so much more."
Shalini Gupta, Bell Lab
Broadening Participation
We are strongly committed to promoting diversity and inclusion as one of our core missions. We welcome and encourage talented individuals of all cultures, ethnicities, socio-economic backgrounds, and sexual orientations, including individuals with disabilities, to apply to our graduate program. Our faculty value teaching and mentoring and are committed to providing a supportive, sensitive, and inclusive environment for all students. The department sponsors multiple programs and activities to promote community building and to encourage open communication between students and faculty.
In addition to department level efforts, MIT has a number of dedicated offices and student organizations as well as substantial infrastructure to support and serve a diverse student population with a spectrum of needs.
"There's a culture of collaboration and multidisciplinary research. A lot of the best ideas I've had came from talking to my labmates and leveraging their knowledge."
Lauren Cote, Reddien Lab
First-Year program
The first-program provides a thorough introduction to our department, as well as the opportunity to engage with peers studying core subjects. As a first-year student, you will be assigned a faculty mentor with whom you will meet regularly to discuss subjects, lab selection, graduate student life, overall progress, and any concerns.
Most first year students take four subjects in the fall semester and three subjects in the spring semester in addition to participating in spring lab rotations.
Lab rotations
An introduction to lab environments and research in our department.
In January of your first year, poster sessions, individual meetings with faculty, and faculty talks will introduce you to the range of available research options.
During your second semester, you will sample different lab environments and styles during three four-week laboratory rotations.
After completing three rotations, you will choose a lab by the end of May and begin full-time research.
Course work
Core Curriculum
Our subjects are designed to strengthen your scientific background, provide broad training in the principles of modern biology, and expose you to contemporary thinking in specific fields.
Required subjects:
One of the following subjects focused on computational and quantitative biology:
Electives
Elective subjects are chosen from a wide range of topics offered in either lecture or seminar format.
"The courses-only first semester and introduction to the faculty during IAP create a tight-knit cohort of graduate students, integrating them into the greater biology community."
Gunter Sissoko, Cheeseman Lab
Additional Requirements and Training
After the first year, your focus will be on research, and you will have opportunities to present your work in informal and formal settings. In addition, we require the following:
Responsible Conduct in Research Training
During your second year, you will complete 7.935 Responsible Conduct in Research.
Qualifying Exam
For your qualifying exam you will submit a proposal describing a research project related to your interests, and defend this proposal before a small group of faculty. This allows you to hone your communication skills and to demonstrate an understanding of the intent and intellectual foundations of your thesis research.
Most students take the qualifying exam early in their third year.
Teaching Assistantships
All graduate students are required to serve as a teaching assistant for two semesters to improve communication and interaction skills that are essential for success in any career. Students typically complete this requirement with one semester in year 2 and one semester in year 4.