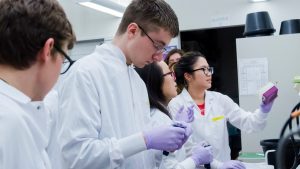 Our students thrive in an atmosphere that promotes exploration and collaboration across all areas of research and study. Our professors have an infectious passion for instruction and strive to teach each course better than it's ever been taught before.  Undergraduates and teaching assistants enhance the quality of the department with their research, knowledge, and creativity. Rigorous standards and a supportive culture combine to foster a powerful environment for learning.
"I've always seen MIT as a place of opportunity. The research environment is extremely collaborative and welcoming towards undergraduates."
Elizabeth Li SB '18, Course 7
The Academic Experience
Our undergraduate curriculum is designed to give you a sophisticated understanding of the fundamental principles and prevailing and emerging approaches to biology with particular emphasis on molecular and cellular biology. Coursework emphasizes methods and logic rather than a particular set of facts.
We offer four courses and minor options:
Bachelor of Science in Biology | Course 7
Bachelor of Science in Biology | Course 7-A
Bachelor of Science in Chemistry and Biology | Course 5-7 (offered jointly by Biology and Chemistry)
Bachelor of Science in Computer Science and Molecular Biology | Course 6-7 (offered jointly by Biology and Electrical Engineering and Computer Science)
Biology Minor
"I chose my classes based on what I thought was interesting — not because I had to, but because I wanted to. I came here because I thought MIT would foster that kind of interdisciplinary learning, and it has."
Camilo Espinosa SB '18, 5-7, 18 double major

Research and Career Development
Undergraduate study in the department provides a strong foundation for research and a variety of career opportunities. Laboratory research allows you to gain a working knowledge of experimental design, data evaluation, and scientific presentation. Our affiliated labs and research centers afford unprecedented opportunities for undergraduates to participate in groundbreaking projects and interdisciplinary collaborations with clinical and therapeutic applications.
"The research environment here at MIT is incredibly collaborative. You come into the lab as an undergraduate, and everything is set up so you can find out what you're interested in and what will advance your scientific curiosity."
Carolyn Lanzkron SB '18, Course 7
Learn More from Your Peers
When undergrads swap stories with their counterparts at other schools, they quickly come to the conclusion that the MIT Biology experience is different. We encourage our students to think creatively as they define their own course roadmap.