Advocating for vaccine equity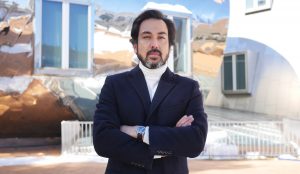 Postdoc Dig Bijay Mahat became a cancer researcher to improve healthcare in Nepal, but the COVID-19 pandemic exposed additional resource disparities.
Raleigh McElvery
When Dig Bijay Mahat arrived at MIT in 2017 to begin his postdoctoral studies, he had one very clear goal: to become an expert in cancer research and diagnostics so he could improve healthcare in Nepal, where he was born. In 2020, when the COVID-19 pandemic laid bare additional discrepancies in resource equity around the world, his goal did not waiver. But it did expand to fill a more immediate need — help Nepal find the best way to navigate widespread COVID testing requirements and vaccine rollouts.
Mahat was born in the western region of Nepal, where his family has owned a large swath of land for generations. Before Mahat was born, his grandfather passed away unexpectedly. And, as the eldest son, Mahat's father assumed responsibility for his five of siblings at the age of 21. As a result, Mahat's father missed his chance to pursue the education he'd envisioned. Perhaps because of this, he made it his mission to give Mahat the education he never received. However, no school was quite good enough, and he shuffled Mahat between nine different institutions before the age of 18.
While his father wished him all the success and prestige that would come with pursing a medical career, Mahat had other plans. Toward the end of high school, he became captivated by song writing, and even secretly used his school tuition money one semester to record an album. "It was a disastrous flop," he now recalls with a smile.
Although his foray into the music industry provides comic relief today, at the time Mahat was dismayed to be back on the medical track. However, he did convince his father to let him go to the US for college. He ended up at Towson University in Maryland, living with his aunt and uncle and delivering pizzas to support his nuclear family back in Nepal. Some weeks, he clocked in over 100 hours of deliveries.
As a molecular biology, biochemistry, and bioinformatics major, he took every research opportunity he could get, and became enthralled by breast cancer research. Shortly thereafter, his mother was diagnosed with the same disease, which further strengthened his conviction to learn as much as he could in the US, and return to Nepal to help as many patients as he could.
"The state of cancer diagnostics is very poor in Nepal," he explains. Patient biopsies must be sent to other countries such as India — a costly practice at the mercy of politics and travel restrictions. "The least we can do is become self-sufficient and provide these vital molecular diagnostics tools to our own people," Mahat says.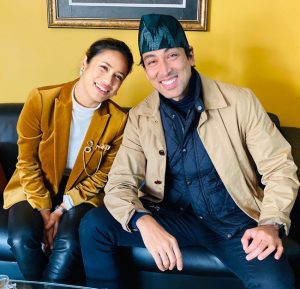 He went on to earn his PhD in molecular biology and genetics from Cornell University, and by the fall of 2017 he had secured his dream job: a postdoctoral position in the lab of MIT Professor of Biology Susan Lindquist. Mahat had spent much of his time at Cornell studying a protein known as heat shock factor 1, and Lindquist had conducted seminal work showing that this same protein enables healthy cells to suddenly turn into cancer cells. Just as he had finalized his new apartment lease and was preparing to start his new job, Lindquist wrote from the hospital to tell him she had late-stage ovarian cancer, and suggested he complete his postdoctoral studies elsewhere.
Gutted, he scrambled to find another position, and built up the courage to contact MIT professor, Koch Institute member, and Nobel laureate Phil Sharp. Mahat put together a formal research proposal and presented it to Sharp. A few days later, he became the lab's newest member.
"From the beginning, the things that struck me about Phil were his humility, his attention to experimental detail, and his inexplicable reservoir of insight," Mahat says. "If I could carry even just some of that same humility with me for the rest of my life, I would be a good human being."
In 2018, Mahat and Sharp filed a patent with the potential to revolutionize disease diagnostics. Widely-available single-cell sequencing technologies reveal the subset of RNAs inside a cell that build proteins. But Mahat and his colleagues found a way to take a snapshot of all the RNA inside a single cell that is being transcribed from DNA — including RNAs that will never become proteins. Because many ailments arise from mutations in the "non-coding" DNA that gives rise to this "non-coding" RNA, the researchers hope their new method will help expose the function of non-coding variants in diseases like diabetes, autoimmune disorders, neurological diseases, and cancer.
Mahat was still immersed in this research in early 2020 when the COVID-19 pandemic began to escalate. As case numbers soared around the world, it became clear to him that the wealth of COVID testing resources available on MIT's campus — and throughout the US in general — dwarfed the means available to his family back in Nepal. Polymerase chain reaction (PCR) testing remains the most popular and accurate means to detect the virus in patient samples. While PCR machines are quite common in molecular biology labs across the US, the entire country of Nepal owned just a few at the start of the pandemic, according to Mahat.
"Digbijay was focused intensely on developing our novel single-cell technology when he became aware of Nepal's challenges to control the COVID-19 pandemic," Sharp recalls. "While continuing his research in the lab, he spent several months contacting leaders in pharmaceutical companies in the US and leaders in public health in Nepal to help arrange access to vaccines and rapid tests."
Mahat was already in contact with the Nepali Ministry of Health and Population regarding the state of the country's cancer diagnostics, and so the government called on him to advise their COVID testing efforts. Given the high cost and limited availability of PCR machines and reagents, Mahat began discussions with MIT spinoff Sherlock Biosciences, in order to bring an alternative testing technology to Nepal. These COVID tests, which were developed at the Broad Institute of MIT and Harvard, use the CRISPR/Cas9 system — rather than PCR — to detect the SARS-CoV2 virus that causes COVID-19, making them cheaper and more readily available. Sherlock Biosciences ultimately donated $100,000-worth of testing kits, supplemented by an additional $100,000 grant from the Open Philanthropy Project to help purchase the equipment necessary to implement the tests. In December of 2020, Mahat and his wife Rupa Shah flew to Nepal to set up a testing center using these new resources.
Although this required Mahat to briefly pause his MIT research, Sharp was supportive of these extracurricular pursuits. "We are very proud of Jay's effective work benefiting the people of Nepal," Sharp says.
Around the same time, Mahat reached out to Institute professor and Moderna co-founder Robert Langer to help initiate vaccine talks with the Nepali government. Through Sharp's contacts, Mahat was also able to connect the government with Johnson & Johnson. In addition, Mahat, Sharp, and Emeritus Professor Uttam RajBhandary wrote a letter to MIT president Rafael Reif, who joined other university leadership in urging the Biden administration to donate vaccines to low-income countries.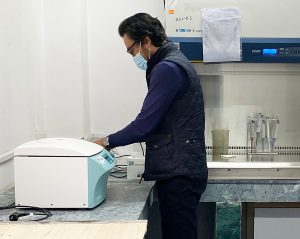 Nepal ultimately received its COVID-19 vaccines through the COVAX program, co-led by the Coalition for Epidemic Preparedness Innovations, GAVI Alliance, and the World Health Organization. Today, the country has begun administering boosters. There were also some funds left over from the Open Philanthropy Project grant, which went toward sending Nepal several thousand PCR kits designed to distinguish between the delta and omicron variants. Professor Tyler Jacks, the Koch Institute director at that time, also connected Mahat with the company Thermo Fisher Scientific to secure additional PCR reagents.
Roshan Pokhrel, the Secretary of Nepal's Ministry of Health and Population, met Mahat prior to the pandemic, and relied on his expertise to begin establishing Nepal's National Cancer Institute (NCI) in 2020. "It was his cooperation and coordination that helped us set up NCI," Pokhrel says. "Mr. Mahat's continuous support during the first two waves of our COVID-19 vaccine distribution was also highly appreciated. During the recent omicron outbreak, his support in our public laboratory helped us to monitor the variant."
Bhagawan Koirala, chairman of the Nepal Medical Council, participated in the vaccine talks that Mahat organized between Nepal's Ministry of Health and Johnson & Johnson. Koirala says he was impressed by Mahat's exceptional credentials and his modesty, as well as his desire to promote cancer research and diagnostics. As the chairman of the Kathmandu Institute of Child Health, Koirala hopes to engage Mahat's expertise in the future to help advance pediatric cancer research in Nepal.
"We have spoken extensively about the policies regarding cancer diagnostics in Nepal," Koirala says. "Dr. Mahat and I are eager to work with the government to introduce policies that will help develop local diagnostic capacity and discourage sending patient samples out of the country. This will save costs, ensure patient privacy, and improve quality of care and research."
These days, Mahat is nothing short of a local celebrity in Nepal. Despite his current drive for ensuring vaccine equity, his ultimate goal is still to work with individuals like Koirala and Pokhrel to bring cancer treatment resources to the country. He not only envisions setting up his own research center there, but also inspiring young people to pursue careers in research. "Before me, no one in my entire village had pursued a scientific career, so if I could motivate even a few young kids to follow that path, it would be a win for me."
But, he adds, he's not ready to leave MIT just yet; he still has more to learn. "I feel privileged and honored to be part of this compassionate community," he says. "I'm also proud — proud that we've been able to come together in this time of need."
Top image by Raleigh McElvery
Posted: 2.17.22