Growing and learning together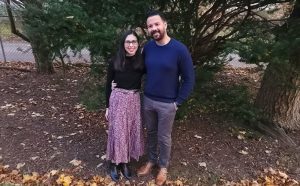 After meeting at the University of Puerto Rico at Mayagüez, José McFaline-Figueroa and Nelly Cruz came to MIT to kick-start accomplished careers as biologists
Grace van Deelen
When biologists José McFaline-Figueroa PhD '14 and Nelly Cruz PhD '11 are sitting at the dinner table with their five-year-old daughter, they might be discussing which experiments may work in lab, how to improve each other's protocols, or even what new model of microscope to buy. Although they work at separate institutions, they both study how cells respond to disease and disease therapy, which allows them to learn a lot from each other. "We've found that it works for us to be able to collaborate and work together," McFaline-Figueroa says. "It maybe doesn't make for the best dinner conversation for our daughter, though."
Cruz and McFaline-Figueroa's teamwork has helped them navigate the journey from undergrad at the University of Puerto Rico at Mayagüez (UPRM), where they met, to graduate school at MIT, and all the way to their current jobs. "There are always opportunities to learn from each other," Cruz says.
As a senior research scientist at Sloan Kettering Institute (SKI) in New York City, Cruz studies melanoma, a type of skin cancer, using zebrafish. She and her colleagues at SKI are interested in developing new ways to model melanoma, as well as studying its disease progression and looking for possible new avenues to develop melanoma therapeutics. Meanwhile, as an assistant professor at Columbia University, McFaline-Figueroa's biomedical engineering research focuses on defining how cancer cells respond to anti-cancer therapies, and how those responses relate to genetic differences among cancer cells. While McFaline-Figueroa brings a computational biology lens to Cruz's work, Cruz helps him determine which model systems might be best for his research.
Set from the start
Cruz and McFaline-Figueroa both grew up in Puerto Rico: Cruz in San Sebastián and McFaline-Figueroa in San Germán and Sabana Grande. From an early age, they were both interested in science and math. Cruz had a penchant for animals in particular. Living in the northwest part of the island, she was surrounded by a rural, quiet environment where she had plenty of exposure to the natural world. There, she would read her grandfather's encyclopedias, and was fascinated by the wildlife. The snow leopard was her favorite — mysterious and elusive, it inspired her to be curious about the biological phenomena around her.
In addition to his encyclopedias, her grandfather's support and enthusiasm for learning was also key to Cruz's upbringing. "He was basically the only one in his family to go to college, so he had this desire to learn," Cruz says. His support, combined with her parents' encouragement, gave Cruz the confidence to aspire to a career in science. "They always believed in me and always encouraged me to pursue whatever I wanted to pursue."
When it came time to decide what path to follow in college at UPRM, it was clear to Cruz that the biological sciences were the way forward. From 2003 to 2005, Cruz became involved in a research training program called Maximizing Access to Research Careers (MARC), which was sponsored by the National Institutes of Health. Her mentors in the MARC program encouraged her to complete summer research at institutions in the U.S. According to Cruz, this early exposure to research helped her realize that being a scientist could be a viable career option. Through this program, she was able to visit MIT as an undergraduate and meet Professor of Biology Steve Bell and Director of Diversity and Outreach Mandana Sassanfar.
"It was a very positive interaction," Cruz says. "The more I learned about the program at MIT, the more interested and excited I got about it." The interactions she had at the Department of Biology really resonated with her, so she made the choice to come to MIT for her PhD.
Like Cruz, McFaline-Figueroa was also interested in math and science from a young age, and his parents and grandparents were also key to that early interest. "Every afternoon my grandmother was the one who would say, "Well, have you done your homework?"' he says. "She was the person mostly in charge of that."
Cruz and McFaline-Figueroa met through McFaline-Figueroa's brother during their first year at UPRM, and McFaline-Figueroa attributes his eventual interest in biology to seeing his brother and Cruz succeed in their research pursuits. "The fact that Nelly and others around us were on that path fed me information indirectly," McFaline-Figueroa says. "I started to realize, 'Wow, that's so cool. I should be doing it as well.'" Inspired, he joined the lab of UPRM biochemistry professor Joseph Bonaventura, who introduced him to biomedical research. His interest was piqued, and his path as a scientist began to take shape.
Exploring the reaches of biology
Cruz was accepted to the MIT Department of Biology directly after graduating from UPRM in 2005, and began working under Jaqueline Lees, the Virginia and D. K. Ludwig Professor for Cancer Research. There, Cruz used zebrafish to study how cells regulate different parts of their life cycles, with a particular focus on cell division.
During her time in the Lees lab, she remembers collaborating closely with other graduate students and postdocs, as well as with particularly influential mentors. Emblematic of her collaborative career, she says, was her thesis defense.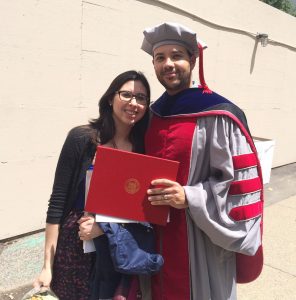 "It was so emotional for me to be able to not only present my work, but also to acknowledge all the people who helped with my work," she says. "It really marked an important time when I realized I was able to accomplish these goals in an environment that allowed me to grow professionally and also personally." Lees' mentorship was particularly influential, and helped Cruz build confidence and professional skills that she continues to carry with her today.
Meanwhile, McFaline-Figueroa was inspired by Nelly's work, as well as the experiences of his brother, who had participated in the MIT Summer Research Program in Biology. McFaline-Figueroa had studied chemistry at UPRM, and needed to establish himself as a biologist before applying to PhD programs. So, in 2006, he landed a research technician position at MIT with Peter Dedon, the Underwood-Prescott Professor of Biological Engineering. There, McFaline-Figueroa used mass spectrometry to measure the genetic damage that exposure to cancer therapies did to cells — a research approach that was totally new to him.
While he was doing this research, he was able to work on some projects with an accomplished molecular biologist who would later become one of his PhD advisors: Leona Samson, who is currently a professor emerita in the departments of Biological Engineeering and Biology. McFaline-Figueroa says this less formal experience was a huge part of how he honed his research interests. "It gave me the opportunity to explore what it was that I wanted to study," he says. "Then I was lucky enough, two years later, to be admitted to the PhD program in biology."
As a PhD student, McFaline-Figueroa was jointly advised by Samson and Professor of Biological Engineering Forest White, and studied how an aggressive type of brain cancer responded to different therapies. He says it was exciting to navigate the questions at the intersection of the two very different labs. The supportive atmospheres of the Samson and White labs helped him develop his confidence and independence as a researcher. "My advisors were both very gracious and made sure that I was progressing while also giving me space, which worked well for me," he says.
Full circle
In 2011, Cruz graduated from MIT with her PhD, then moved on to a postdoc position at the Schepens Eye Research Institute in Boston. There, she pivoted to the field of ophthalmology, and began studying murine models to understand how genes regulate disease progression in the retina. Then, in 2013, she took a job as a biology instructor at MIT, overseeing students in laboratory courses. Afterwards, she pivoted yet again to a position as a research scientist at the University of Washington, where she studied models of kidney disease using pluripotent stem cells.
Cruz feels that her work has now come full circle, and that, at SKI, she's working on questions she was excited about during her time at MIT. However, now she has even more knowledge and skills to push those questions further — and more advanced tools to answer them.
"It's really, really exciting to be able to use the novel technologies that have been developed since then, especially with the advancement of the genome editing tools we now have available," she says. "I'm using all the different skills I have learned in my past research experiences, and I can see how it all comes together in my current projects."
After McFaline-Figueroa completed his PhD in 2014, he made his own transition: from molecular cell biology to single cell genomics. Working as a postdoc at the University of Washington in Cole Trapnell's lab, McFaline-Figueroa decided to explore computational biology a bit more, after gaining confidence in his skills as a researcher from his time at MIT.
"There was a very broad view that I was able to get at MIT by learning so many different possible approaches to tackle one problem," he says. "That really gave me the courage to explore this other field." He says that, in his recent search for an assistant professorship before beginning at Columbia, he also prioritized finding a place where people take "varying approaches to tackle the questions they're interested in."
Today, McFaline-Figueroa is happy to be applying the skills and methods he learned at MIT to his own lab. "It's very exciting when you start seeing your research become this comprehensive story," he says. Over time, he says, he's enjoyed seeing the full picture come together.
It helps, too, that Cruz has been there throughout the journey. "I've learned a ton from Nelly's work over the years," he says. Cruz feels the same. "I also learn a lot from José, he's been super helpful."
Whether their daughter is showing scientist tendencies, though, is to be determined. "We'll let her make that choice," McFaline-Figueroa says.
Posted: 12.2.21