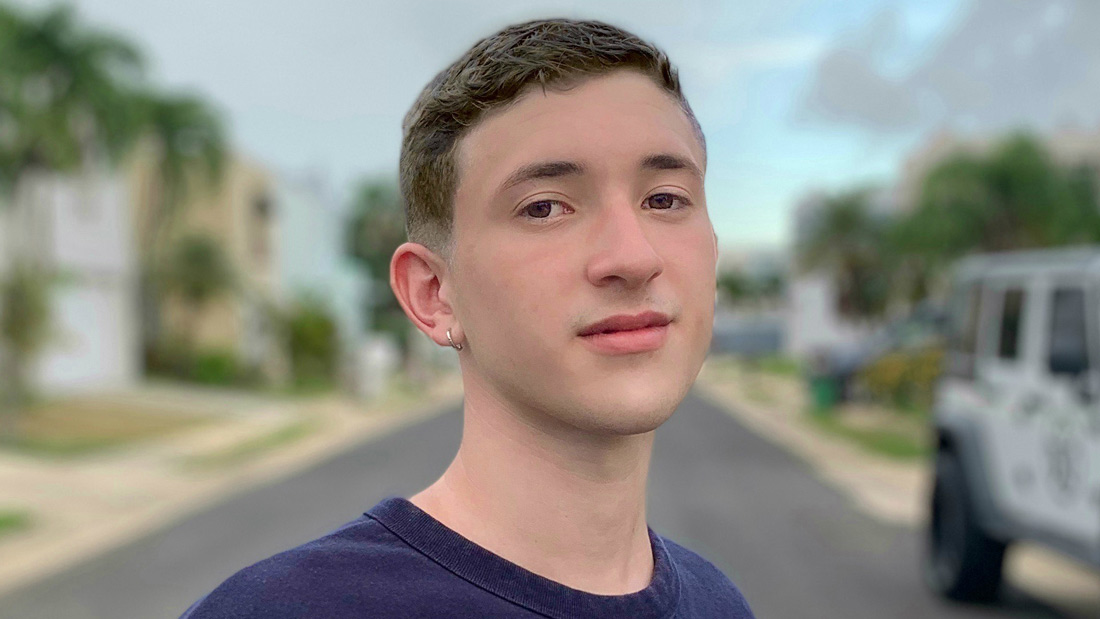 Diego Detrés spent the summer probing protein function and collaborating with MIT researchers remotely from his home in Puerto Rico.
Raleigh McElvery
August 17, 2020
When he was young, Diego Detrés wanted to become a magician in order to learn the tricks of the trade and transform enigma into fact. Now a fourth-year industrial microbiology major at University of Puerto Rico at Mayagüez, he's on track to become a researcher while chasing a similar aim. To Detrés, the complex biological processes that continue to stump researchers are akin to acts of magic — although deciphering them is much more complicated than pulling a rabbit out of a hat. As a participant in MIT's Summer Research Program in Biology (MSRP-Bio), he's getting closer to parsing the mechanisms behind molecular mysteries.
After his magician phase but before developing an affinity for biology, Detrés was on track to become a professional boxer in Puerto Rico. In high school, he spent hours each night reading about nutrition to supplement his training. Before long, he found himself entranced by the intricacies of the metabolic processes that allow cells to convert food into energy.
At the University of Puerto Rico at Mayagüez, he wanted to continue exploring biology and focus on medicine. "My plan was to become a doctor, because I thought that's what you do with a biology degree," he says. "It also seemed like the best way to make an impact on people's lives."
But Detrés' first semester was cut short when hurricane Maria tore through Puerto Rico in September 2017. His spring classes were canceled as the island reeled in the aftermath, so he joined a relief project headed by his university to bring help and legal aid to local communities. "It wasn't scientific research, but it did show me that understanding a problem is critical to finding an effective solution," he recalls. "It also allowed me to explore other ways in which I could impact other people."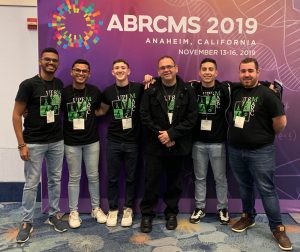 Detrés' first lab experience came the next summer at the University of Minnesota, where he studied the genetics of maize. That internship affirmed his interest in biology but shifted his gaze away from medicine and towards fundamental research.
"I really liked being at the bench," he says. "I fell in love with working in lab and basic science. It's fundamental knowledge that's important for the building blocks of science; you might discover something today that will help a lot of people later on."
When he returned home to the University of Puerto Rico at Mayagüez that August, Detrés was accepted into the Maximizing Access to Research Careers (MARC) Program, which is sponsored by the National Institute of General Medical Sciences and provides research-related opportunities and a special science curriculum. He joined the lab of Carlos Ríos Velázquez, investigating novel antibiotic resistance genes within the gut microbiome of the Caracolus marginella snail, and helping Ríos Velázquez teach biology workshops to high school students.
"He gave me a background in science when I didn't have one, and I want to do the same for other people," Detrés says. "I hope to teach eventually."
In January 2020, Detrés was invited to come to MIT for the annual Quantitative Methods Workshop, a seven-day boot camp that introduces students to tools for analyzing experimental data. He enjoyed the "feel" of campus, and decided to apply to MSRP-Bio in hopes of returning in June.
Although the Covid-19 pandemic prevented the Institute from hosting in-person summer programs, Detrés has been gleaning the MIT experience from his apartment in Puerto Rico. His days are filled with Zoom meetings featuring faculty and graduate student talks, group hangouts, informal exercise sessions, musical jams, and cooking classes. He was also named a 2020 MSRP-Bio Gould Fellow. "Even remotely, I've gotten to know the MSRP cohort really well, and the faculty have been very interactive," he says.
He's been conducting research in Eliezer Calo's lab for the past two months, running literature searches and bioinformatic analyses. Like Detrés, Calo grew up in Puerto Rico and attended MSRP-Bio. Now, Calo is a professor in MIT's Department of Biology. His lab investigates RNA metabolism to inform developmental disorders and cancer research.
Detrés is focusing on a family of RNA helicases called DEAD-box ATPases, or "DDXs," which are involved in every step of RNA metabolism. These proteins are conserved across many species, and contain a core amino acid sequence that helps catalyze reactions with other molecules in the cell.
However, the Calo lab suspects that the less-conserved sequences near the ends of the proteins may be more critical for specialized function. Detrés is investigating what it is about these terminal sequences that determines DDXs' specific roles in RNA metabolism.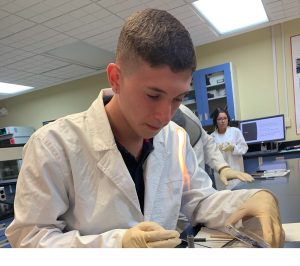 This summer, he showed that DDX proteins are more likely to lack a stable structure near one end, known as the C-terminus, compared to other closely-related helicases. These findings will help the Calo lab better understand the relationship between DDX's functional specificity and its intrinsically disordered regions like the C-terminus.
"Most of these proteins are essential for life, and yet we don't really know how they're involved in so many dynamic processes," Detrés says. "It's been interesting to analyze already-existing data in ways that allow us to investigate novel possibilities."
Working from home has been challenging to say the least. Not having the in-person support from his labmates has been difficult. On the other hand, spending so much time with his family has been enjoyable.
"I had to make a routine for myself that allowed me to work effectively from home, as well as maintain my physical and mental well-being," he says. "Program activities also gave us the chance to be physically active and to interact with other students".
Detrés aims to return for a second summer of MSRP next year, hopefully in person.
"Since starting MSRP, I've noticed a lot of changes in myself," he says. "The more I get into research, even remote research, the more I realize it's what I want to do. Science is not about being really smart; it's about being really curious."
As Detrés continues to follow his curiosity, the inner workings of the cell are becoming more comprehensible — but no less mesmerizing.
Photos courtesy of Diego Detrés
Posted: 8.18.20