Undergraduate students melded biology and art to forge remote collaborations
Taught for the first time in 2013, 7.016 (Introductory Biology) introduces MIT undergraduates to fundamental principles of biochemistry, molecular biology, and genetics. While the class has historically packed over 200 students into a lecture hall, the past two iterations have been held over Zoom due to COVID-19 restrictions. In order to incite collaboration and spur creativity in a remote setting, Professor of Biology and Chemistry, Barbara Imperiali, Associate Professor of Biology, Adam Martin, and MITxBio Instructor, Monika Avello, have infused the homework assignments with some whimsey.
One bonus question on a problem set required students to work together in teams to devise a cartoon of the Statue of Liberty. Inspired by a drawing in Chemical & Engineering News that depicted Lady Liberty clad in chemistry gear, Imperiali, Martin, and Avello asked the students to reimagine the cartoon with a biology theme instead.
"We wanted to create a light-hearted, fun, and rewarding opportunity for 7.016 students to collaborate and connect with each other in our remote class," Avello says. "We were totally blown away by how creative and talented the students were. So many of them went above and beyond by modifying the cartoon template we provided to showcase their creativity and artistic skills."
Below is a sampling of responses from the assignment.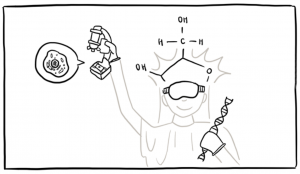 This biology-inspired Statue of Liberty features a crown made of deoxyribose (the 5-carbon sugar in DNA). Per lab protocol, she has also donned safety goggles and disposable gloves. She holds some DNA in one hand and a microscope inspecting a cell in the other.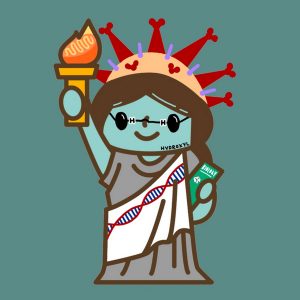 A DNA sash, hydroxyl eyes, and a crown of SARS-CoV-2 spike proteins highlight some of the details that were central to class discussions this semester. With a textbook in hand and her mitochondria torch held high, this cute comic lifted students' spirits.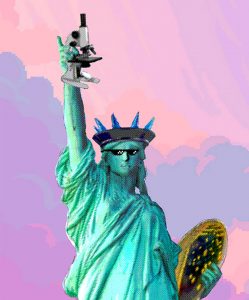 In one hand, Lady Liberty is holding a microscope to symbolize discovery. She is holding a petri dish in the other hand, indicating that data are absolute. Her crown is a centrifuge, because the experiment is "king." And the sunglasses? Those are to show that biology is cool.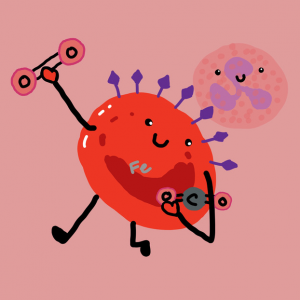 Here, Lady Liberty takes the form of a red blood cell, which carries oxygen all over the body. As such, she is holding an oxygen molecule in one hand. In the other hand, she holds carbon dioxide.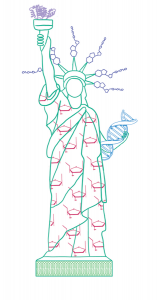 This cartoon features Lady Liberty standing on the lipid bilayer that constitutes the membrane encircling a cell's internal components. She is holding a DNA molecule and wearing a dress with deoxyribose molecules, which form the "backbone" of DNA. She is also sporting a crown with adenosine triphosphate (ATP) molecules — providing energy to drive cellular processes — and holding a torch of proteins.
Posted: 4.14.21