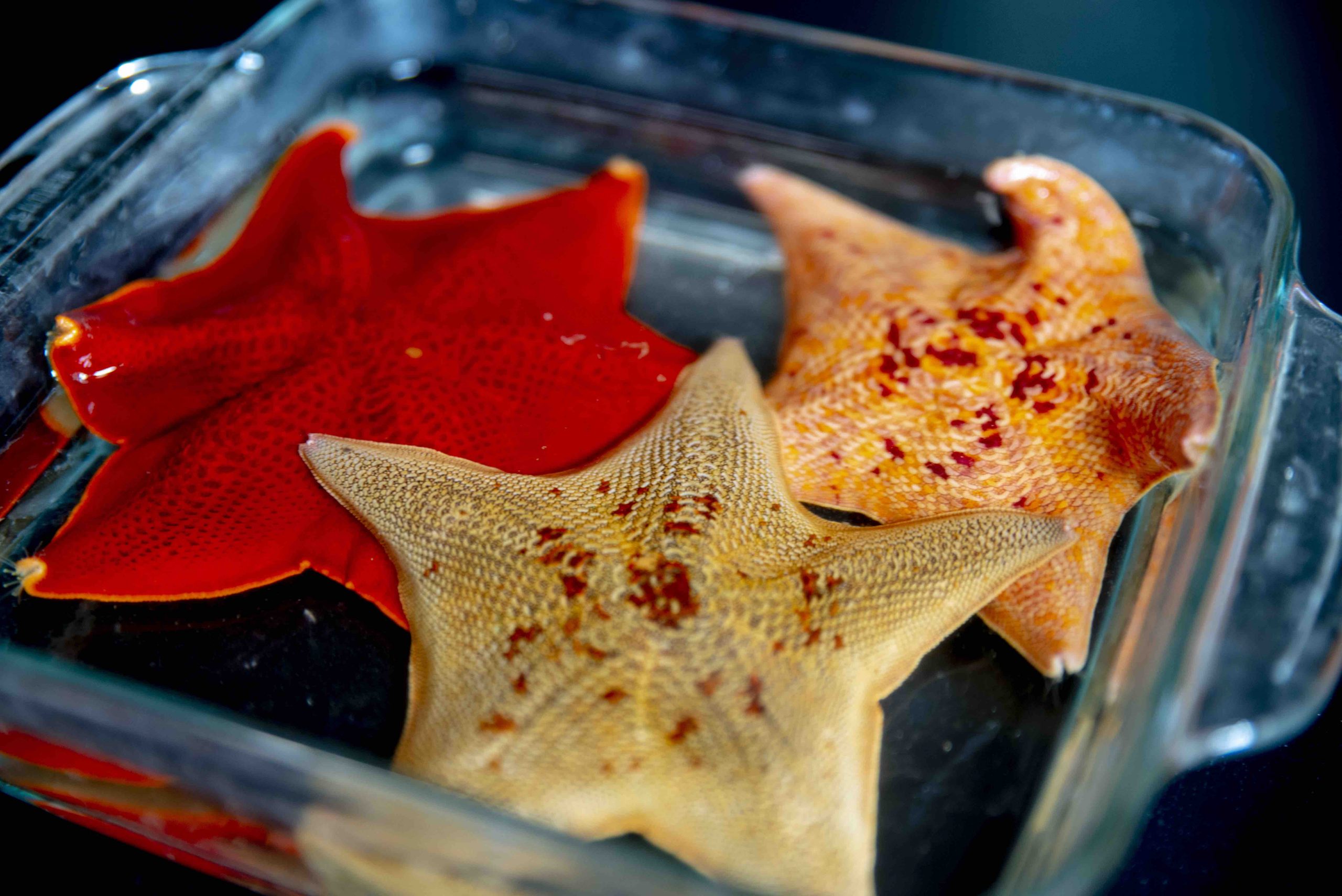 Greta Friar | Whitehead Institute
February 25, 2020
Zak Swartz, a postdoctoral researcher in Whitehead Institute Member Iain Cheeseman's lab, gets an unusual delivery a few times a year. It comes in a cardboard box a few feet in length on each side with a "perishable" label on top. When the most recent box arrived, Swartz took it to a small, chilly room across from Cheeseman's lab. He cut and tore his way through several layers of packaging, insulation, and cold packs to get to his prize: a bunch of plastic bags half-filled with water, the sort of thing that might contain a goldfish at a county fair. Instead of goldfish, these makeshift aquaria each contained two or three bat stars (Patiria miniata), a hardy species of starfish seemingly unphased by their transcontinental trip in a cardboard box.
Bat stars are so named because the thick webbing between their arms—of which they typically have five, though they can have up to nine—gives their short limbs a bat-wing-like appearance. The stars are most often some shade of red or orange, but come in a variety of colors and patterns. Each star that Swartz pulled out of the box had a unique design coating its body.
Swartz untied the plastic bags and took the bat stars out one by one. He gently dropped each star into an aquarium in the corner of the room, where it would sink slowly to the bottom, then crawl to the sides and inch its way up, clinging to the glass. Although their movements are barely perceptible to a human watching, within minutes bat stars coated the walls of the aquarium, the tiny tube feet on the underside of each arm sticking them firmly in place.
As the first round of bat stars settled onto their chosen perches, Swartz returned to the box. He took another bat star out of its bag and held it in his hand for a moment.
"This one's heavy," he said, with satisfaction; heavy stars are more likely to be full of eggs, and that's what Swartz is interested in. He's researching how cells, such as immature egg cells, that remain dormant or non-dividing for a long time retain their ability to divide. The proteins necessary for cell division degrade over time, like parts of a machine rusting and breaking down, and yet many cells remain able to divide long after their unused cellular machinery should have become useless. In the case of humans, precursor egg cells can spring back into action after decades of dormancy in the ovaries, and can go on to perform that most impressive feat of cell division: the creation of a whole new organism from one cell. But human eggs are not the most accessible or readily available research material, and so Swartz has turned to the bat stars, an excellent source of reproductive cells, to help answer his questions.
Fertile ground for discovery
Bats stars reproduce by spawning. The females release millions of eggs into the ocean through pores in between their arms, while at the same time males release clouds of sperm. The reproductive characteristics of bat stars make them ideal research animals for Swartz. They have a long breeding season during which they can ovulate, they produce millions of eggs at a time, and they release these eggs out into their environment, where they develop externally.
In the lab, Swartz must extract the immature egg cells before they are released, so he can study the processes that take place in the cells during their development. This is much easier than extracting cells from mammalian ovaries; all it requires is a minimally invasive procedure from which the starfish quickly recover. Once Swartz has extracted the eggs in their "hibernating" pre-spawn state, he can control and observe all of the steps of their development, from their re-activation through to fertilization and beyond.