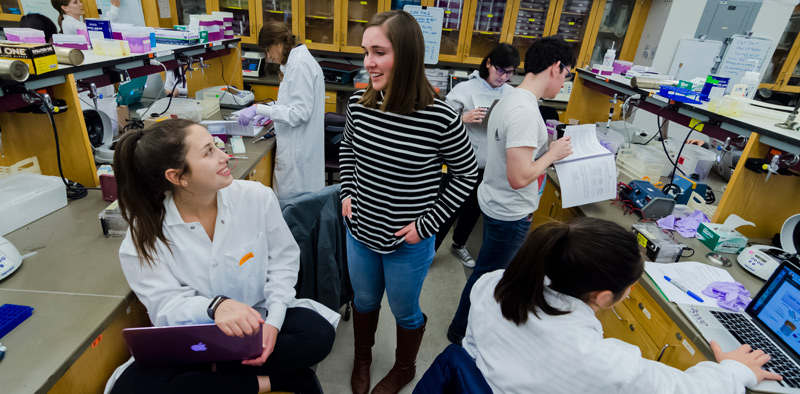 The Independent Activities Period (IAP) is a special four-week term at MIT that runs from the first week of January until the end of the month. We offer both credit and non-credit opportunities.
For Credit
7.102 -- Laboratory in Molecular Biology
January 10 – 31, daily from 1-5 p.m.
Building 68, Room 089
Level: U | 6 units (0-5-1) | Can be repeated for credit.
Instructors: Prof. Adam Martin, Dr. Mandana Sassanfar
Prerequisites: 7.01x or AP Biology – Note that this course is not a substitute for 7.02
This intensive 3-week "boot-camp" style course will provide hands-on instruction in basic molecular biology and microbiology techniques including sterile techniques, isolation and quantification of nucleic acid (DNA) and protein, agarose and SDS-PAGE gel electrophoresis, PCR, Cloning, microscopy, DNA sequence analysis, and bioinformatics. In addition students will learn to classify bacteria based on their shape, membrane structure and metabolism. Emphasis will be on real-world application, experimentation and trouble shooting in preparation for a successful UROP experience. Priority will be given to 5-7 majors doing 5-7 lab track 1, and freshmen with no prior research experience.
Students will be expected to spend every afternoon from 1-5pm in the lab. Labs may start earlier on some days.
Apply by December 7, 2018. The class is limited to 18 students. No listeners. Do not preregister on WebSIS. Applicants will be informed by December 17.
Non-Credit
7.S390 -- Pre-7.01 at MITx: Getting up to Speed in Biology
This course opens January 17, 2018 and is self-paced
Level: U | Credit: None
Instructors: Prof. Hazel Sive and Dr. Diviya Ray
Pre-7.01r provides background useful for succeeding in 7.01 Introductory Biology. It includes cell biology, biochemistry, molecular biology and genetics. Pre-7.01 is designed for students with little Biology background, including seniors who have not yet completed the 7.01 GIR, and need a refresher course. The online subject includes lectures with practice problems, additional assessments and an exam.
To assess whether a student will learn new material in Pre- 7.01, students are encouraged to take a "Self assessment" quiz.
Students must register in order to be able to access this link.
Students are invited to complete an optional questionnaire that is posted at the above link. Please email the completed form to Dr. Ray.
Metabolomics Boot Camp
January 14 – 17, daily from 3:30-5:30p.m.
Whitehead Institute, 7th-floor classroom
Level: G | Credit: None
Instructors:
Goals of the course:
Design and interpretation of an untargeted metabolomics experiment
Hands on work with sample preparation and instrumental setup.
Hands on work with LC/MS data analysis using MZmine2
Past IAP offerings