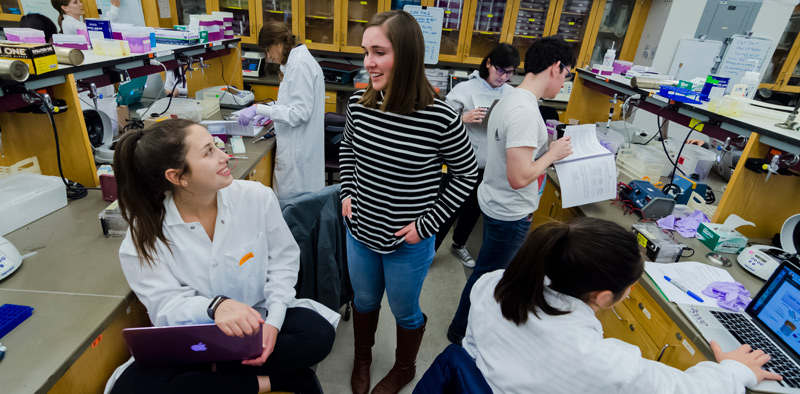 The Independent Activities Period (IAP) is a special four-week term at MIT that runs from the first week of January until the end of the month. We offer both credit and non-credit opportunities.
Non-Credit
Skills in Science
Delivering an Engaging Scientific Presentation
Britt Glaunsinger, PhD
Professor, Departments of Molecular and Cellular Biology and Plant and Microbial Biology, University of California, Berkeley
Investigator, Howard Hughes Medical Institute
Communicating your work effectively is an essential skill. Professor Britt Glaunsinger, who developed a class on this very topic, will share her tips and tricks for giving a clear and engaging scientific presentation for an academic audience—whether on zoom or in-person.
Wednesday, January 6
Zoom link: https://mit.zoom.us/j/91202541122
Password: MITBiology
Rethinking Scientific Training  
Melanie Sinche, NCC
Interim Assistant Dean for Academic Affairs
Director, Career Development Center
Executive Director, Women's Leadership Center,
University of Saint Joseph, West Hartford, Conneticut
Joshua Hall, PhD
Director of Admissions, Biological and Biomedical Sciences Program (BBSP)
Director of UNC PREP
Office of Graduate Education, UNC Chapel Hill, School of Medicine
An advanced degree in biomedical science is a prized asset to employers, both inside and outside academia. Although institutions are waking up to the need to introduce trainees to the career landscape early in their training, much of the onus for career development currently rests on your own shoulders. Melanie Sinche, author of Next Gen PhD, and Joshua Hall, host of the HelloPhD podcast will share their perspectives going through, and later shaping, graduate training within the biomedical community. This should be an empowering discussion about rethinking scientific training in the future—and present.
Thursday, January 14
Zoom link: https://mit.zoom.us/j/95331530370
Password: MITBiology
Creating Effective Figures and Compelling Data Visualization
Jenna Luecke
Claus Wilke, PhD
Want your figures to look better for presentations and publications? Unsure on how to do it? Join us for a two-part series to get advice on creating compelling figures from professionals.
In Part 1, Jenna Luecke, professional designer and illustrator, will cover design principles for creating powerful visuals. jennaluecke.com/sciencecommunication
Wednesday, January 13
Zoom link: https://mit.zoom.us/j/96027714802
Password: MITBiology
 
In Part 2, Dr. Claus Wilke, Department Chair and Professor of Integrative Biology at UT Austin and author of "Fundamentals of Data Visualization" will teach us how to make "visualizations that accurately reflect the data, tell a story, and look professional." clauswilke.com/dataviz/
Thursday, January 21
Zoom link: https://mit.zoom.us/j/92219406182
Password: MITBiology
Communicating Science to Non-scientists
Carl Zimmer
Science Writer, New York Times columnist, author
This workshop led by award-winning New York Times columnist Carl Zimmer will introduce participants to writing about science for a broad, non-scientist audience.
 
Thursday, January 28
Zoom link: https://mit.zoom.us/j/98108214470
Password: MITBiology
Careers in Biology
Exploring a Career Path in Biotech and Biopharma
Florencia Rago
Principal Scientist, Novartis Institutes for BioMedical Research (NIBR)
Amy Rabideau
Associate Director, Moderna
Elizabeth Paik
Head of Genome Engineering, Associate Director, Vor Biopharma
Are you interested in pursuing a career in the biotechnology or pharmaceutical industries after graduation? What are the key differences between working in industry vs academia? What are the perks of each of these sectors and how do you navigate the job search? Learn about the wide variety of opportunities that exist: from basic science to translational research as well as clinical trial management and business operations. Our talented speakers will share their diverse set of experiences and provide valuable career advice in these areas.
Tuesday, January 5 
Zoom link: https://mit.zoom.us/j/93978441054
Password: MITBiology
Science Policy
Rocco Casagrande, PhD
Managing Director, Gryphon Scientific
Erica Kimmerling, PhD
Senior Advisor for Science Engagement Policy and Partnerships, Association of Science Centers
Daniel Pomeroy, PhD
Executive Director of the Scientific Citizenship Initiative, Harvard Medical School
Interested in applying your Biology PhD to work in the public sector? Come learn about how to transition from Biology graduate school to a career in science policy.
 
Thursday, January 14
Zoom link: https://mit.zoom.us/j/95478463174
Password: MITBiology
Art & Science
Christine Liu
PhD candidate, University of California, Berkeley
Sarah McGuiness
PhD candidate, University of Illinois, Chicago
As academics, we work to better contextualize our relationship with the natural world. Other disciplines, especially art, have their own distinct ways of analyzing our relationship to our universe in furtherance of this goal. Artistic representations of scientific ideas are interesting in their own right, and can serve to improve your ability to communicate your scientific ideas. How can art help your science? Could your scientific work one day become part of a work of art? To what extent can you merge your scientific and artistic interests in a career?
Wednesday, January 18
Zoom link: https://mit.zoom.us/j/96753238521
Password: MITBiology
Venture Capital in Biotech: what it is and how to get involved
Abbie Celniker
Partner, Third Rock Ventures
Kate Moreau
Associate Director, TechAtlas, RA Capital Management, LLC
Geraldine Paulus
Senior Associate, MPM Capital
Investments and company creation within the life sciences hold exciting opportunities for those interested in the development of disruptive, innovative, and transformative technologies coupled to their application to human health. Join a panel of leaders within the venture capital world to discuss 1) what constitutes a successful career as a venture capitalist 2) their journey to where they are now and 3) suggestions for anyone interested in pursuing a similar career trajectory.
Tuesday, January 26
Zoom link: https://mit.zoom.us/j/93034714066
Password: MITBiology
Immunity from Principles to Practice
Clonal Dynamics of the Antibody Response
Gabriel Victora, PhD
Laurie and Peter Grauer Assistant Professor
Rockefeller University
Tuesday, January 5, 4–5 pm
Neutralizing Antibodies Against Pandemic Viruses
Pamela Bjorkman, PhD
David Baltimore Professor of Biology and Biological Engineering,
California Institute of Technology
Tuesday, January 12, 4–5 pm
Interrogating the Immune System through the Lens of Structure-based Ligand Engineering
Chris Garcia, PhD
Younger Family Chair
Investigator, Howard Hughes Medical Institute
Stanford University School of Medicine
Tuesday, January 19, 4–5 pm
Microbiome and Virome Control of Host Immunity
Yasmine Belkaid, PhD
Chief, Metaorganism Immunity Section
Laboratory of Immune System Biology
National Institute of Allergy and Infectious Diseases
Tuesday, January 26, 4–5pm
Attendance Information
Zoom link: https://mit.zoom.us/j/97856784053 (password: MITBiology)
Python Series
This series will be announced at a later date.
For Credit
7.102 -- Introduction to Molecular Biology Techniques (not offered IAP 2021)
January 13 – 29, daily from 12:30-5 p.m.
Building 68, Room 089
Level: U | 6 units (0-5-1) | Can be repeated for credit.
Instructors: Prof. Adam Martin, Dr. Mandana Sassanfar
Prerequisites: None – Note that this course is not a substitute for 7.002 or 7.003
This intensive 2-week "boot-camp" style course will provide hands-on instruction in basic molecular biology and microbiology techniques including sterile techniques, isolation and quantification of nucleic acid (DNA) and protein, agarose and SDS-PAGE gel electrophoresis, PCR, Cloning, microscopy, DNA sequence analysis, and bioinformatics. In addition students will learn to classify bacteria based on their shape, membrane structure and metabolism. Emphasis will be on real-world application, experimentation and trouble shooting in preparation for a successful UROP experience. This lab course will improve students' troubleshooting and problem-solving skills. As in a real lab situation, some experiments will take longer than expected, or will need to be repeated. Priority will be given to freshmen with no prior research experience and 5-7 majors doing 5-7 lab track 1.
Students will be expected to spend every afternoon from 1-5pm in the lab. Labs may start earlier on some days.
Apply by December 9, 2019 by filling out this form and emailing it to Dr. Mandana Sassanfar. The class is limited to 16 students. No listeners. Do not preregister on WebSIS. Applicants will be informed by December 15.
7.S391 -- Special Subject in Biology | Visualizing biological molecules and fundamental biological processes
January 11 – 27, daily from 1:30-4 p.m.
Virtual
Level: U | 3 units (0-2-1)
Instructor: Dr. Mandana Sassanfar
Prerequisites: None (Biology GIR or High school AP biology recommended)
Note: This subject does not replace 7.102 and is not a substitute for 7.002 or 7.003.
Students will be introduced to fundamental molecular biology techniques and tools that are used to study DNA and Proteins and visualize fundamental biological processes such as cell growth and division, cell migration, neural circuits, quorum sensing, and apoptosis. Techniques will include PCR, genetic engineering, GFP labeling, fluorescence microscopy and optogenetics. This course will focus on problem solving skills and be highly interactive.
The class is limited to 25 undergraduates. No listeners. Preference will be given to freshman and sophomores. If interested please download and complete the registration form and email Dr. Mandana Sassanfar by December 24.
Past IAP offerings