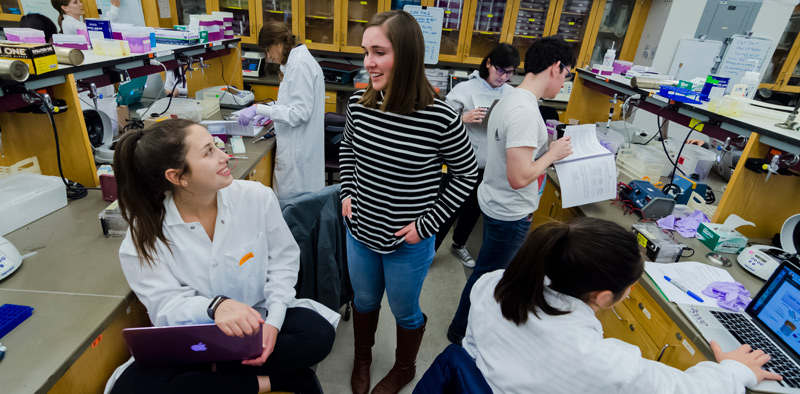 The Independent Activities Period (IAP) is a special four-week term at MIT that runs from the first week of January until the end of the month. We offer both credit and non-credit opportunities.
For Credit
7.102 -- Introduction to Molecular Biology Techniques
January 13 – 29, daily from 12:30-5 p.m.
Building 68, Room 089
Level: U | 6 units (0-5-1) | Can be repeated for credit.
Instructors: Prof. Cathy Drennan, Dr. Mandana Sassanfar
Prerequisites: None – Note that this course is not a substitute for 7.002 or 7.003
This intensive 2-week "boot-camp" style course will provide hands-on instruction in basic molecular biology and microbiology techniques including sterile techniques, isolation and quantification of nucleic acid (DNA) and protein, agarose and SDS-PAGE gel electrophoresis, PCR, Cloning, microscopy, DNA sequence analysis, and bioinformatics. In addition students will learn to classify bacteria based on their shape, membrane structure and metabolism. Emphasis will be on real-world application, experimentation and trouble shooting in preparation for a successful UROP experience. This lab course will improve students' troubleshooting and problem-solving skills. As in a real lab situation, some experiments will take longer than expected, or will need to be repeated. Priority will be given to freshmen with no prior research experience and 5-7 majors doing 5-7 lab track 1.
Students will be expected to spend every afternoon from 1-5pm in the lab. Labs may start earlier on some days.
Apply by December 9, 2019 by filling out this form and emailing it to Dr. Mandana Sassanfar. The class is limited to 16 students. No listeners. Do not preregister on WebSIS. Applicants will be informed by December 15.
Non-Credit
7.S390 -- Pre-7.01 at MITx: Getting up to Speed in Biology
This course opens January 22 and is self-paced.
Level: U | Credit: None
Instructors: Prof. Hazel Sive and Dr. Diviya Ray
Pre-7.01 provides background highly useful for succeeding in 7.01 Introductory Biology. It includes cell biology, biochemistry, molecular biology, genetics and DNA engineering. Pre-7.01 is designed for students with little Biology background, including seniors who have not yet completed the 7.01 GIR, and need a refresher course. This online subject includes lectures with practice problems, additional assessments and an exam.
You can find Pre-7.01r/Getting up to Speed in Biology in the MITx Course Catalog. Students must first register in order to be able to access the link.
A self-assessment quiz is included to indicate whether this subject will be useful to you.
Please contact Prof. Sive or Dr. Ray with questions.
Inclusive Classrooms: How to Leverage Identity to Improve your Teaching Practice
This is a workshop designed to help members of the MIT community improve their teaching skills by learning to foster inclusive environments for their students. Attendees will be asked to consider how their own identities influence their roles as instructors and mentors, and reflect upon how preparations for the first day of class can set the tone for an inclusive classroom year-round.
Instructors:
Darcy Greer Gordon, Postdoctoral Associate, MITx Biology Digital Learning Lab
David Bergsman, Postdoctoral Associate, Research Laboratory of Electronics
In this interactive 3 hour workshop, you will learn how to:
articulate the intersectional identities you hold,
identify how different teaching practices can be received by diverse audiences,
assess strategies that promote inclusivity starting with the first day of class, and
create an action plan to address inclusivity in your classroom.
This workshop is supported by qtPhDs, in collaboration with the Postdoctoral Association, the Committee on Race and Diversity, and the School of Science Quality of Life Program.
Register for one of the two sessions offered here:
Registration link: https://forms.gle/YzQSJSTy7YBUH8BA6
Limited to 30 participants in each session.
Session #1: Wednesday, January 15th, 9:00am-12:00pm, 68-121
Session #2: Wednesday, January 22nd, 1:00pm to 4:00pm, 68-121
Microbes in Health and Disease
Chemical Biological Investigations of Infection
Thursday, January 9th, 3–4 pm Whitehead Institute, McGovern Auditorium
Deborah Hung
Core Member and Co-Director of the Infectious Disease and Microbiome Program, Broad Institute of Harvard & MIT
Associate Professor, Department of Genetics, Harvard Medical School
The Microbiome's Impact on Colorectal Cancer
Tuesday, January 14th, 1–2 pm Koch Institute Auditorium, 76-156
Matthew Meyerson
Professor of Pathology, Dana-Farber Cancer Institute, Harvard Medical School
Director, Center for Cancer Genome Discovery, Dana-Farber Cancer Institute
Member, Broad Institute of Harvard & MIT
Microbiome in Inflammatory Bowel Disease
Thursday, January 16th, 3–4 pm, Koch Institute Auditorium, 76-156
Ramnik Xavier, Core Member, Broad Institute of Harvard & MIT
Kurt J. Isselbacher, Professor of Medicine, Harvard Medical School
Modulation of Gut Inflammation by Glycolipids from the Microbiome
Wednesday, January 29th, 3–4pm Whitehead Institute, McGovern Auditorium
Dennis Kasper, William Ellery Channing Professor of Medicine and Professor of Immunology, Harvard Medical School

Taking the Next Step in Academic Science
Tips in K99 Grant Writing
Wednesday, January 8th, 1-2pm, 68-181
Pau Creixell, Postdoc, Koch Institute
Nora Kory, Postdoc, Whitehead Institute
Rebecca Lamason, Assistant Professor, MIT
Pulin Li, Assistant Professor, Whitehead Institute, MIT
The NIH K99-R00 Pathway to Independence Award is an early career grant awarded to postdocs and provides financial assistance to those transitioning to independent faculty positions. Join us for a panel from both postdocs and current professors who have received the K99 award for advice on how to approach the grant application process.
How to Find a Postdoctoral Position
Wednesday, January 15th 1-2:30 pm, 68-181
Christopher Brennan, Postdoc, Pfizer
Ian Campbell, Postdoc, Harvard Medical School
Kristin Knouse, Whitehead Fellow, Whitehead Institute
Are you considering doing a postdoc, but uncertain about academia vs industry? Come learn about how to choose and the differences in experiences and career trajectories between them.
How to Craft a CV and Resume
Tuesday, January 21st, 2-3pm, 68-181
Robert Dolan, Assistant Director for Postdoctoral Scholars, MIT Career Advising & Professional Development
How to craft your professional CV/resume to present the best version of yourself.
Finding and Managing a Faculty Postition
Wednesday, January 29th 4–5:30pm, 68-181
Naama Kanarek, Assistant Professor, Harvard University
Miyeko Mana, Assistant Professor, Arizona State University
Dan Jarosz, Associate Professor, Stanford University
Anders Hansen, Assistant Professor of MIT Department of Biological Engineering
Mansi Srivastava, Associate Professor at Harvard University
Beginning a career as an independent investigator and faculty member studying biology can be exciting, yet challenging. In the panel discussion, our speakers will share some of the unwritten rules and tips that they have learned and wished had known when they embarked on their academic career and job search. We aim at providing information that will make each candidate better prepared for the job search and take optimal advantage of any opportunity.
A Sampling of Careers in Science
Science Communication
Tuesday, January 7th, 1-2:30 pm, 68-181
Justin Chen, External Affairs Associate, OpenBiome; MIT Bio PhD '18; AAAS Mass Media Science & Engineering Fellowship '18
Christina Couch, Freelance science writer, MIT Science Writing Program
Erica Kimmerling, Founder and Director of Operations, BitScis; AAAS Hellman Fellow for Science and Technology Policy, Tufts PhD
Science is communicated to entertain, inform, and persuade diverse audiences through many types of media. In this panel, three professionals at different stages of their careers and with different backgrounds and training will share their experiences communicating science on a daily basis.
What to Do When You Don't Know What You Want to Do
Monday, January 13th 2–3 pm, Koch Institute Auditorium, 76-156
Priya Budde, Senior Corporate & Foundations Relations Officer, Whitehead Institute
Joey Davis, Whitehead Career Development Professor, MIT Biology
Olesya Levsh, Associate, The Engine
Panelists reflect on the aspects of their graduate education and post-grad experiences that influenced their future career goals.
How to Start and Run a Small Biotech Company
Wednesday, January 22nd, 1-2pm, 68-181
Isaac Stoner, Chief Operating Officer, Octagon Therapeutics
Eric Kelsic, Chief Executive Officer, Dyno Therapeutics
James Italia, VP of Commercial Development and Technical Founder, BrickBio
Many students and postdocs at MIT are interested in creating startups for the development of new and revolutionary technologies. Creating a biotech startup is not easy and requires substantial financial capital, laboratory space, and highly skilled co-workers. Our speakers have solved these issues by taking advantage of unique opportunities that are available for startup founders in Boston and Cambridge area. They will share their experiences and provide valuable advice to aspiring biotech entrepreneurs. Networking with our speakers and lunch provided before the talks.
Careers in Big Pharma Companies
Tuesday, January 28th, 4-5pm, 68-181
Christopher Tehlirian MD, Senior Medical Director, Pfizer Inc.
Jeremy Jenkins, PhD, Head of CBT Data Science, Novartis Institute for Biomedical Research
Dina Sah, ex-Chief Scientific Officer, Voyager Therapeutics
Nenad Grmusa, Head of External Innovation,Takeda
Big pharmaceutical companies offer a wide variety of careers that are of interest to students and postdocs at MIT. From basic and translational research, to clinical trial management and business operations, opportunities at big pharma can be a great career path for graduating students and postdocs. Our speakers will share their experiences working in the big pharma sector and provide valuable career advice to those interested in pursuing this path. Following the talks, you can join us for a career-networking night at the Koch Institute auditorium, co-organized by MIT Biotech Group and Biology Graduate Student Council.
Past IAP offerings