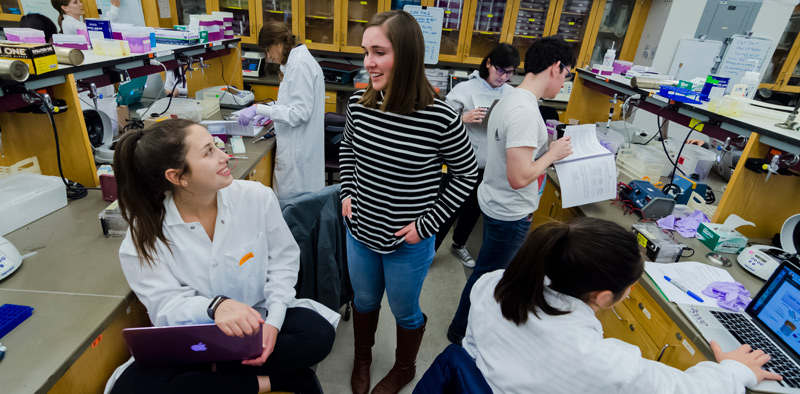 The Independent Activities Period (IAP) is a special four-week term at MIT that runs from the first week of January until the end of the month. We offer both credit and non-credit opportunities.
For Credit
7.102 -- Introduction to Molecular Biology Techniques
January 10 – 27, daily from 12:30-5 p.m.
Building 68, Room 089
Level: U | 6 units (0-5-1) | Can be repeated for credit.
Instructors: Prof. Adam Martin, Dr. Mandana Sassanfar
Prerequisites: None – Note that this course is not a substitute for 7.002 or 7.003
This intensive 2-week "boot-camp" style course will provide hands-on instruction in basic molecular biology and microbiology techniques including sterile techniques, isolation and quantification of nucleic acid (DNA) and protein, agarose and SDS-PAGE gel electrophoresis, PCR, Cloning, microscopy, DNA sequence analysis, and bioinformatics. In addition students will learn to classify bacteria based on their shape, membrane structure and metabolism. Emphasis will be on real-world application, experimentation and trouble shooting in preparation for a successful UROP experience. This lab course will improve students' troubleshooting and problem-solving skills. As in a real lab situation, some experiments will take longer than expected, or will need to be repeated. Priority will be given to freshmen with no prior research experience.
Students will be expected to spend every afternoon from 1-5pm in the lab. Labs may start earlier on some days.
Apply by December 10, 2021 by filling out this form and emailing it to Dr. Mandana Sassanfar. The class is limited to 16 students. No listeners. Do not preregister on WebSIS. Applicants will be informed by December 15.
Non-Credit
Science and Society
Careers in Biology
Gene Regulation and Expression
Python IAP Bootcamp
Past IAP offerings