Our advanced undergraduate seminar courses focus on the primary research literature, with the goal of introducing you to the methods of contemporary biological research and the logic of experimental design and interpretation. The seminars are taught by postdoctoral scientists who are practicing researchers. They will expose you to the kind of thinking that is central to contemporary biological research and also impart specific knowledge in particular areas of biology.
Advanced seminars are graded pass/fail, carry six units, and meets for two hours weekly.
Advanced seminars feature:
Small class size (limit of 8 students)
High degree of personal contact with the instructor
Focus on the primary research literature
Lively discussions about biological problems
Prerequisites:
7.06 Cell Biology  or  7.28 Molecular Biology
Subject offering descriptions
Days and class times are flexible and will be determined at the first class meeting.
Fall 2021

7.342 Immune Cell Migration: On the Move in Response to Pathogens and Cancer Immunotherapy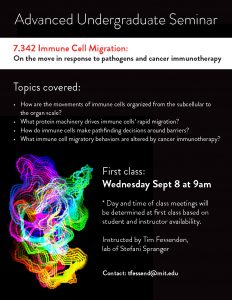 Wednesdays, 9 a.m. – 11 a.m.
Instructors: Tim Fessenden (laboratory of Stefani Spranger)

The mammalian immune system is sometimes called a "liquid organ," capable of rapidly initiating and then resolving potent responses to pathogens at almost any location in the organism. To accomplish this feat, the cells of the immune system must execute their functions in the right place at the right time, moving efficiently through a wide range of environments to ensure appropriate location and timing of their functions. What protein machinery drives immune cells' rapid migration? How do cells make pathfinding decisions around barriers? How do they find rare pathogens or target cells in complex environments? This course will begin by examining the general immunological functions of two major immune cell types — T cells and dendritic cells. We will then explore three aspects of T cell and dendritic cell function: (1) the biochemical sensors and mediators that compel immune cell motility, (2) the physical properties of cells and the structural proteins that drive their movements, and (3) the striking scale of immune system function, exemplified by structures that comprise many thousands of migrating cells during inflammation. Each of these aspects will be considered in the context of the adaptive immune response to tumors, which involves sequential recruitment of immune cells with specific functions and impacts on one another. Through our readings and discussions, we will examine the connections between immunotherapy as an emerging treatment modality for a variety of cancers and the migration of immune cells. Using the primary research literature as a base, students in this course will learn how to integrate rich mechanistic detail established at subcellular and molecular scales with the large-scale powerful functions by which the immune system can respond to challenges anywhere in the body.
7.343 Single-molecule Imaging: Capturing Nanoscale Cellular Machines in Action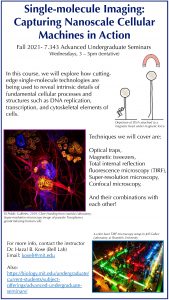 Fridays, 3 p.m. – 5 p.m.
Instructors: Hazal B. Kose (laboratory of Steve Bell)

Did you know that we have approximately 2 meter of DNA packed in our cells, which are less than 10 µm diameter? Or that to replicate DNA it is copied at a rate of 70,000 basepairs per second by a cellular apparatus that coordinates at least six different enzymes? Or that microtubules form greater than 1 meter long "railways" upon which molecular machines transport cargo within nerve cells? In this course, we will explore how single-molecule imaging techniques capture the mega-cellular machines working in real-time. Inside the cell, thousands of events are happening via dynamic interactions among single molecules, traveling through different compartments, and creating higher-order macromolecular behaviors. The organization and dynamics of these macromolecule structures –such as the replisome complex that mediates DNA replication; the RNA polymerase complex (RNAP) for transcription elongation; or the dynein complex that "walks" on microtubules and carries essential signals and organelles — are often regulated through complex rules involving short-lived, weak, and highly dynamic interactions. Although biochemical assays have provided remarkable insight into the various activities of individual proteins and their collective action in these processes, monitoring the kinetics of individual steps is challenging, if not impossible using such assays. This limitation is primarily because biochemical assays of complex multicomponent events are intrinsically asynchronous, and these short-lived and dynamic interactions in complex multicomponent events are usually concealed when averaged over the ensemble. The development of single-molecule experiments has allowed scientists to study the detailed dynamics of individual biochemical events. Using precision nanotechnology techniques such as fluorescence microscopy, single-molecule FRET, magnetic tweezers, optical traps, super resolution microscopy — all of which work at the level of single molecules — scientists can now monitor the individual movements of proteins, and their one-on-one interactions with each other as they function. For example, we can see how fast and for how long each step of the process takes, monitor interactions of each protein (or even protein subunits!), reveal important differences between individual cellular machines, and determine how these machines deal with barriers on their path. Additionally, by combining approaches from physics, engineering, chemistry and biology, single-molecule tools possess an incredible power to discover the principles underlying intracellular order and mechanics, revealing new information about the fundamental physical and biochemical properties of living cells. During this course, students will learn: (1) how to read, discuss, and critically evaluate scientific findings in the primary research literature; (2) how cutting-edge single-molecule technologies are being used to reveal intrinsic details of fundamental cellular processes (primarily focusing on DNA replication, transcription, and cytoskeletal elements of cells); (3) advances and limitations of single-molecule techniques; and (4) how to identify, discuss, and propose experiments to address open questions in the field.
Spring 2022
7.341 Turning Evolutionary Dials: Biomolecular Design Strategies from Therapeutics to Climate Change
7.342 Let's Talk about Sex (Differences): The Evolution of Sex across Species and the Consequences of Sexual Differences for Human Health and Disease
7.343 Why Humans Aren't Immortal: Molecular Mechanisms of Aging and Age-related Disorders
7.344 Evolutionary Cell Biology: How Cells Perform Amazing Functions and Evolve to Overcome Challenging Environments
Past subject offerings