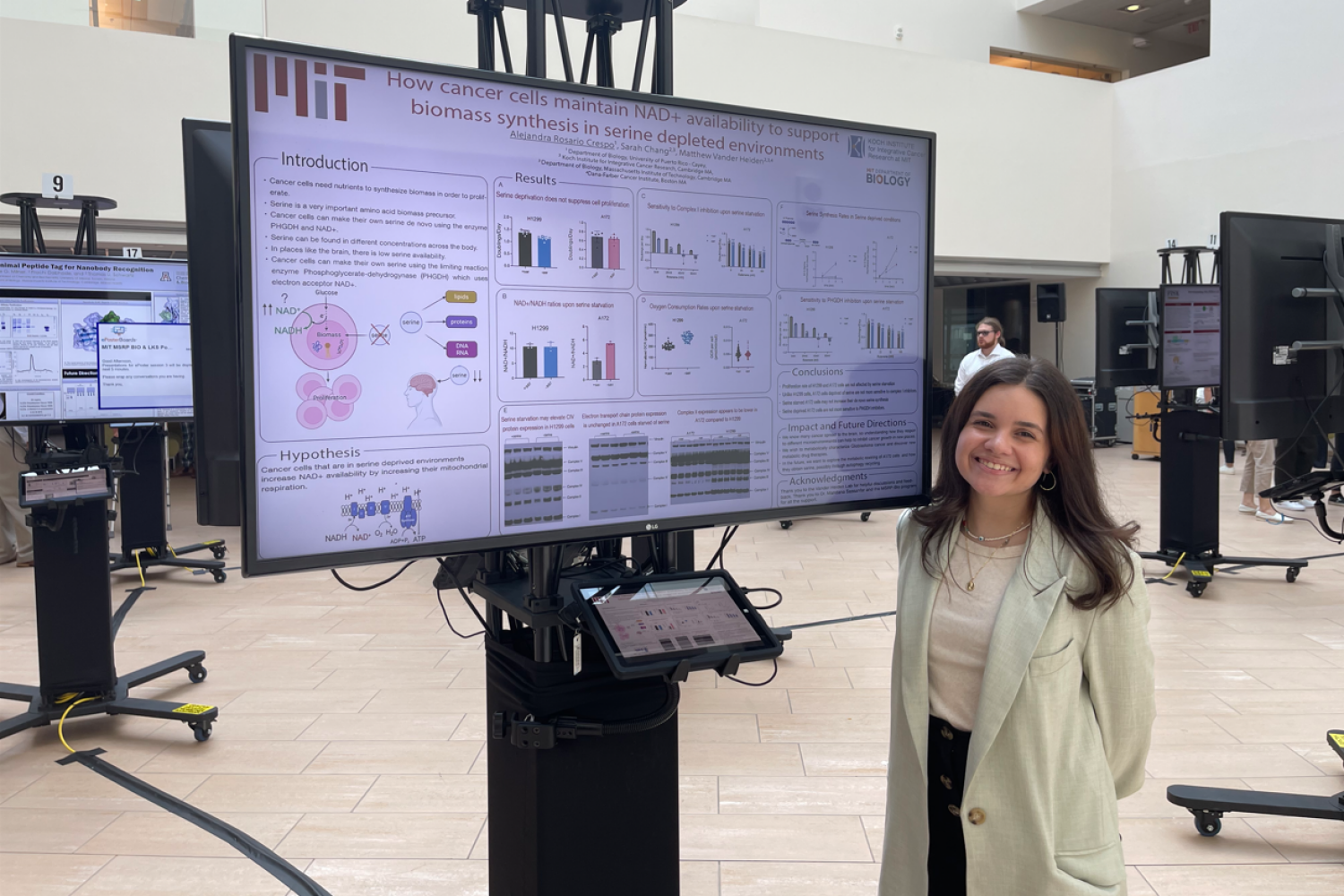 As an MSRP-Bio student in the Vander Heiden lab, Alejandra Rosario helped to reveal how cancer cells maintain access to materials they need to grow.
Grace van Deelen | Department of Biology
September 22, 2022
Alejandra Rosario's enthusiasm for research is infectious. When she talks about studying cancer cells, or the possibility of getting a PhD, her face lights up. "It's something I'm really passionate about," she says.
As a Bernard S. and Sophie G. Gould MIT Summer Research Program in Biology (BSG-MSRP-Bio) student this past summer in the lab of Matt Vander Heiden, MIT's Lester Wolfe (1919) Professor of Molecular Biology, Rosario worked to understand cancer metabolism. MSRP-Bio is a 10-week, research-intensive summer program intended to introduce non-MIT undergraduates to a research career. Rosario, who is a senior at the University of Puerto Rico at Cayey this fall, was one of two MSRP-Bio students this year who were the first from their campus to attend the program. "It's a really great opportunity for us," she says.
Rosario had always been interested in research and understanding natural systems. As a child growing up in San Lorenzo, Puerto Rico, she was surrounded by nature, and got involved at a young age in environmental activism. She also has a special passion for the beach, which contributed to her eventual interest in science and, more specifically, in biology.
Medical connections
When her mother developed thyroid cancer, she focused on cancer research. To support her mother, Rosario tried to learn as much as possible about the type of cancer she was fighting, as well as the treatments available. She noticed the impact of basic cancer research on the therapies her mother was receiving.
As a result of her experience watching her mother battle cancer, too, Rosario has a special interest in translational medicine: working to determine how fundamental discoveries can have specific relevance to human disease treatment. "In cancer research," she says, "small strides can be huge strides."
Delving into a career in cancer research became a focus for Rosario, who sought out opportunities to advance her connections to the field. During a virtual conference held by the Society for the Advancement of Chicanos/Hispanics and Native Americans in Science, Rosario met MIT Department of Biology lecturer and science outreach director Mandana Sassanfar, who invited Rosario to visit MIT for a January workshop on computational skills. During the workshop, she met MIT professors, explored possible research ideas, and decided to apply to the MSRP-Bio program.
Rosario, who would like eventually to pursue a PhD or MD/PhD, was especially drawn to the Vander Heiden lab because of its focus on connecting research to medical applications. "I'm really fascinated about that connection, and how that works," she says.
She especially liked the diversity of research happening in the lab, where projects range from cancer metabolism to genetics to stem cell research. "They're all exploring different questions," she says. "But at the end of the day, they all have conversations with each other and help each other out in a collaborative way."
New insights into brain cancer
This summer, Rosario contributed to that diversity of research by continuing some of the core experiments of the Vander Heiden lab with a new cell line: glioblastoma, a type of brain cancer with a poor prognosis. The lab had never worked with this type of cancer before, so Rosario worked to understand its metabolism and process of cell division.
The main characteristic of cancer cells is that they divide very quickly. In order to do so, they need a lot of new material, like proteins, lipids, and nucleotides. A cancer cell has two options to obtain this new material: it can take it from the environment, or it can produce that new material itself. Glioblastoma occurs in the brain, a microenvironment that provides very little access to the materials necessary for cell division. In order to divide, then, glioblastoma cells must reprogram themselves in order to produce the materials necessary for growth.
Rosario's research this summer sought to determine how glioblastoma cells survive in the environment of the brain by limiting the cells' access to certain substances, like certain proteins or amino acids, and then measuring how the cells react. Understanding the cell's reactions to such changes in the microenvironment could eventually inform cancer therapies.
"Our goal is to understand metabolically how these brain cancer cells are surviving everything we throw at them in order to possibly find a more specific target for treatment," she says. Rosario presented her research in August in the MSRP-Bio poster session.
Shaped by mentorship
Overall, Rosario really enjoyed her experience as a summer researcher. The collaborative and open atmosphere in the lab, says Rosario, has helped her grow. For example, the lab holds occasional meetings called "Idea Club," where researchers in the lab bring a question they're struggling with or an idea they're excited about, and other lab members give their input. "There's a lot of scientific independence and curiosity," says Rosario.
Rosario has especially enjoyed getting to know the graduate students in the lab, like Ryan Elbashir, a rising third-year doctoral student. Elbashir was also an MSRP-Bio student in 2018 and was one of the reasons Rosario chose the Vander Heiden lab. After a discussion with Elbashir about the importance of diversity in research, they formed a connection. "Alejandra is very inquisitive and comfortable around other people in the lab," says Elbashir.
Rosario's formal mentor, fourth-year MD/PhD student Sarah Chang, has also supported Rosario's research goals by helping Rosario design research protocols and understand lab jargon. "Sarah's been nothing but amazing," says Rosario. "She's teaching me how to think like a scientist."
Rosario plans to build on the research she completed this summer in an MD/PhD program. She'd love to return to MIT or the Vander Heiden lab to carry out her future research and would like to continue to find ways to contribute to the development of cancer therapies. She's very committed to studying cancer biology and wants to continue exploring the different sub-fields of cancer research during her senior year.
She plans to be a mentor to other young scientists, as well, and "pay it forward" to a new generation of underrepresented researchers. Mentoring, she says, creates a "chain reaction" of scientists supporting other scientists, which leads to better advances in research.
"By doing research and pursuing a question to the best of my abilities, I can impact as many people as possible," she says.