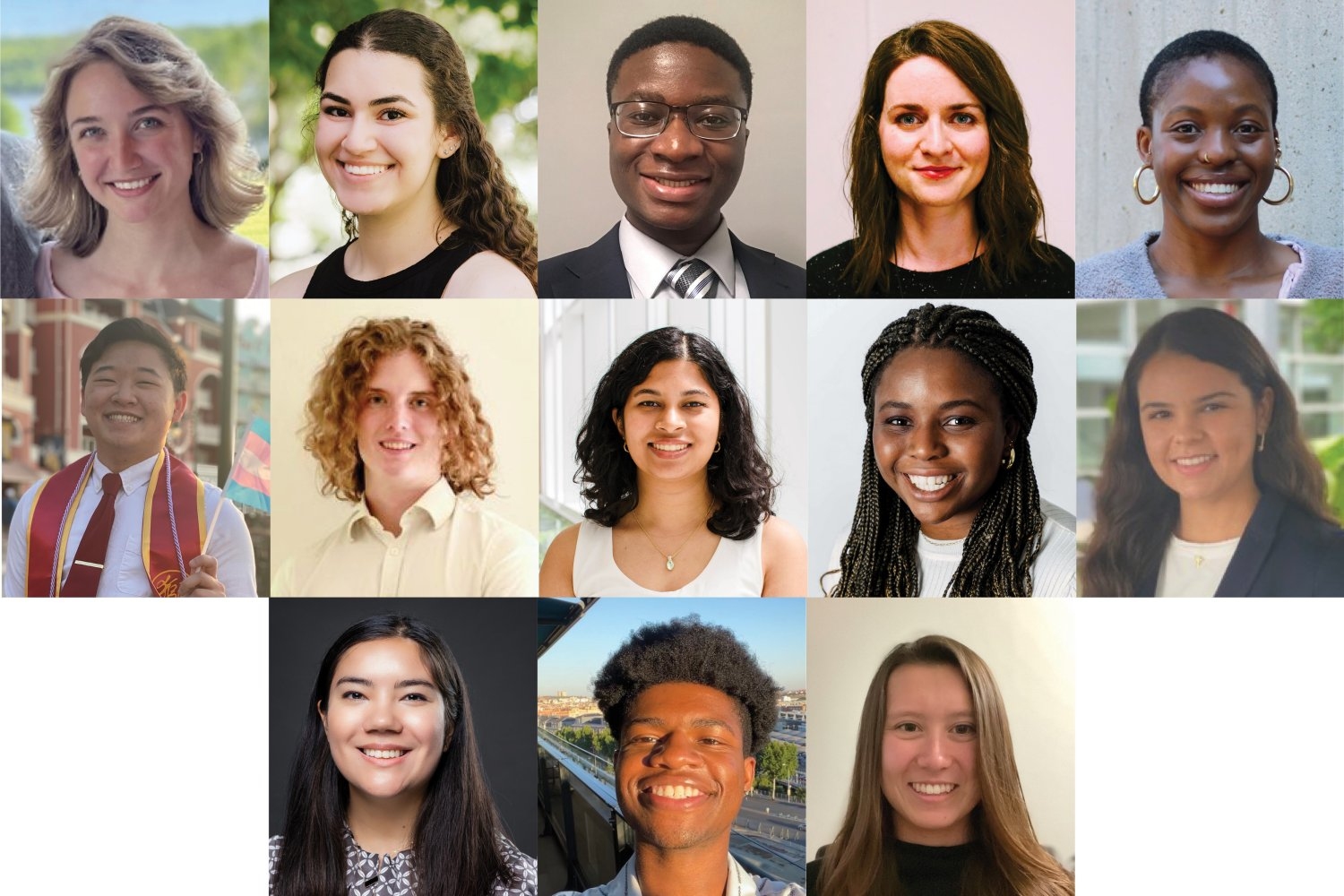 The Fulbright US Student Program funds opportunities for research, graduate study, and teaching abroad.
Julia Mongo | Office of Distinguished Fellowships
May 15, 2023
Thirteen MIT undergraduates, graduate students, and alumni have been awarded Fulbright fellowships and will embark on projects overseas in the 2023-24 grant year. Four other MIT affiliates were offered awards but declined them to pursue other opportunities.
Sponsored by the U.S. Department of State, the Fulbright U.S. Student Program offers American citizen students and recent alumni year-long grants for independent research, graduate study, and English teaching in over 140 countries.
For the past four years, MIT has been a Fulbright Top-Producing Institution. MIT students and alumni interested in applying should contact Julia Mongo in Distinguished Fellowships in Career Advising and Professional Development.
Lainie Beauchemin '22 earned a BS in biological engineering at MIT, where she researched the molecular underpinnings of schizophrenia and other neurological diseases at the Broad Institute of MIT and Harvard. Her Fulbright project will focus on broadening neurological diagnostic care in rural India, in conjunction with IIT Delhi and Project Prakash. During her time at MIT, Beauchemin was co-president of a math mentorship program for underserved middle school girls in the Cambridge/Boston area and worked in various roles for The Educational Justice Institute, including teaching Python to incarcerated women. She was chair of the MIT Shakespeare ensemble as well as an actress, producer, and designer for multiple productions. She looks forward to working with the children of Project Prakash to put on a performance to celebrate Diwali.
Shelly Ben-David is a senior studying electrical engineering and computer science with a minor in mechanical engineering. Her Fulbright research fellowship will take her to Lausanne, Switzerland, where she will work on germanium nanowire networks for spin-qubit applications. Beyond her research, Ben-David is excited to improve her French skills and explore the nature and culture that Switzerland has to offer. At MIT, Ben-David mentored over 300 middle school girls and non-binary students in Scratch through CodeIt; served her community in Maseeh Hall's Executive Council; and spent much of her time in MIT.nano conducting research, leading building tours, and writing stories about science to inspire young students to pursue STEM. After Fulbright, she plans to return to MIT to pursue a PhD in electrical engineering.
Victor Damptey will graduate in June with a major in biological engineering and a minor in Spanish. At the Chemical Institute of Sarrià in Barcelona, Spain, Damptey will test alternative conduits for cardiovascular grafting surgery. He gained a passion for conducting impactful research at the Hammond Lab, where he helped develop a drug delivery system for osteoarthritis. Damptey has cultivated his interest in applying his Spanish fluency to alleviate real-world problems by serving as an English-as-a-second-language tutor and leading a medical interpreting initiative within ActLingual. He plans to continue utilizing his Spanish skills to effectively engage with local communities in Spain and reinforce his cultural awareness. After his Fulbright year, Damptey will continue his studies in medical school while combining research and public service.
Maggie Freeman is a PhD candidate in the History, Theory and Criticism of Architecture and Art Program and the Aga Khan Program for Islamic Architecture. During her Fulbright year in Amman, Jordan, she will conduct research for her doctoral dissertation, "Principles for Desert Control: Architecture, Imperialism, and Nomadic Peoples during the British Mandate (1920-1948)." Freeman's research investigates British imperial uses of architecture as a mechanism of control over nomadic Bedouin and Kurdish populations in Palestine, Jordan, and Iraq. In Jordan, she will study transformations of the built environment under British colonial rule and the resulting, ongoing effects on Jordan's Bedouin community.
Jola Idowu will graduate this spring from the Master of Architecture and Master of City Planning programs at MIT. Her thesis is on the historical preservation of tabby concrete, a global material whose presence in the United States was made possible by the labor of enslaved Blacks and Indigenous peoples along the Eastern Gulf of the United States. For her Fulbright grant, Idowu will research implementation methods of coastal resilience across complicated networks of stakeholders Senegal, focusing on Gorée and the greater Dakar area. She hopes that this work will contribute to centering Black Atlantic narratives within discourses on climate change. As a Nigerian-American, she is excited to explore other parts of West Africa. She will be hosted by the Department of Urban Planning at Cheikh Anta Diop University in Dakar. After Fulbright, Idowu hopes to pursue her licensure in architecture.
Nathan Liang '21 graduated with a double major in biological engineering and comparative media studies. He is currently teaching high school biology with Teach For America Miami-Dade. As a Fulbright English teaching assistant in Taiwan, he hopes to hone his skills as a teacher leader and share his love of American media with his students. At MIT, his passion for education developed through his work with dynaMIT, Concourse, and InterphaseEDGE, where he filled the roles of co-director, associate advisor, and communications and writing teaching assistant, respectively. He also enjoyed leading the MIT Lion Dance Team and performing as part of Odaiko New England. After Fulbright, Nathan plans to pursue a PhD in education with focuses on social work and uplifting LGBTQ+ communities.
Liam Ludington '22 graduated from MIT with a mathematics degree and will receive a master's in mathematics from the University of Oxford this spring. As a Fulbright Germany research grantee at the University of Heidelberg, he is eager to investigate biologically plausible learning algorithms and implement them in brain-inspired computing systems, with the dual aims of bringing the efficiency of the brain to AI systems and better understanding how the brain performs inference. At MIT, Ludington's research ranged from building flexible solar panel deployment systems to the advantages of a generalized first-price ad auction. He was also a member of the men's heavyweight crew and the Number Six Club fraternity. After Fulbright, Ludington hopes to pursue a PhD in computational neuroscience.
Rachana Madhukara is a senior double majoring in mathematics and electrical engineering and computer science. She is the recipient of the Fulbright Budapest Semesters in Mathematics-Rényi Institute award. In Hungary, Madhukara will take classes and conduct research on combinatorics. She also looks forward to immersing herself in Hungary's rich culture and engaging in mathematics teaching outreach to Romani students in the community. At MIT, Madhukara is president of the MIT Undergraduate Society for Women in Mathematics and a mentor for PRIMES Circle and the Research Science Institute. She has been active with the MIT Educational Studies Program, the Ring Committee, and the Borderline murals art project. She has published five papers in mathematical journals and has conducted research at MIT with Professor Henry Cohn as well as through NSF Research Experiences for Undergraduates programs at the University of Minnesota Duluth and the University of Virginia.
Mercy Oladipo will graduate this spring with a BS in computer science and molecular biology. Having always had a passion for health equity and technology, she will continue this work through her Fulbright research in São Paulo, Brazil, with support from the University of São Paulo. In Brazil, Oladipo will use the lens of reproductive justice to investigate disparities in obstetric care experiences and outcomes for Black Brazilian women and create impactful resources to improve care. Oladipo has taught STEM topics to students in Aguascalientes, Mexico, through the MIT International Science and Technology Initiatives (MISTI); conducted research at the Computer Science and Artificial Intelligence Laboratory and Tufts's MOTHER Lab; and is co-founder of Birth By Us, a health equity-focused digital platform that has been supported by MIT's Experimental Study Group, the PKG Center, MIT Sandbox, and more
Erica P. Santana '18 graduated MIT with a bachelor's degree in electrical engineering and computer science. After MIT, Santana returned to her home island of Puerto Rico, aspiring to leverage data science and artificial intelligence to drive positive change and enhance the local tech ecosystem. Santana's passion for international education stems from her transformative MISTI undergraduate experiences in Brazil, Chile, and Mexico. As a recipient of a Fulbright graduate studies grant, Santana will pursue an International MBA at IE University in Madrid, Spain, with the goal of advancing her business skills to foster innovation. Combining her technology background and business acumen, Santana hopes to create a lasting global impact in the education and technology sectors.
Sophia Sonnert will graduate this spring with a major in mechanical engineering, concentrating in micro/nanoengineering, and a minor in German. At the Lucerne University of Applied Sciences and Arts in Switzerland, she will create new equipment to observe salt segregation to advance our understanding of salt hydrates as a phase change material for thermal energy storage. She is also excited to explore the Alpine scenery and practice her German. Her previous research experiences at MIT have ranged from microfluidics and studying algae adhesion to a life-cycle assessment of the benefits of sustainability classes as well as e-scooters. During her undergraduate studies, she enjoyed participating in international opportunities in Germany and Mexico. Before starting her Fulbright fellowship, she will conduct droplet sorting research at the Norwegian University of Science and Technology in Trondheim.
Michael Sutton is a senior majoring in computer science and minoring in Chinese. He will be an English teaching assistant in Taiwan. With a deep interest in the intersection of technology and education, Sutton has conducted research on utilizing machine learning techniques to improve classroom assessments and interned for a company focused on using virtual reality for language immersion. Especially committed to language acquisition, he was awarded the MIT Global Languages Excellence prize for his studies in Spanish, Portuguese, and Chinese. Alongside his own language learning, Sutton tutors English through the ESOL (English for Speakers of Other Languages) office and ITEC (Individualized Tutoring for English and Citizenship), helping others achieve their language goals. He is excited to develop his Mandarin skills while immersing himself in Taiwan's natural beauty and vibrant culture. Sutton is passionate about education and the impact it can have on individuals and communities, and he is eager to contribute to Taiwan's educational system while learning from the local community.
Veronica Will is a senior majoring in biological engineering. She is a recipient of the Fulbright Taiwan Award in Mind, Brain, and Consciousness. For her Fulbright grant in Taiwan, she will pursue a two-year master's degree in neuroscience at Taipei Medical University. At MIT, Will was an undergraduate researcher in Professor Polina Anikeeva's lab, where she worked on developing a soft neural interface device that combined electrical recording, optical stimulation, and microfluidic delivery for use in studying brain tumors. Outside of her research, Will volunteers as an emergency medical technician with MIT Emergency Medical Services and is excited to learn more about the differences in health-care delivery between the United States and Taiwan. After her Fulbright grant, Will hopes to pursue an MD-PhD to combine her passions for research and patient care.