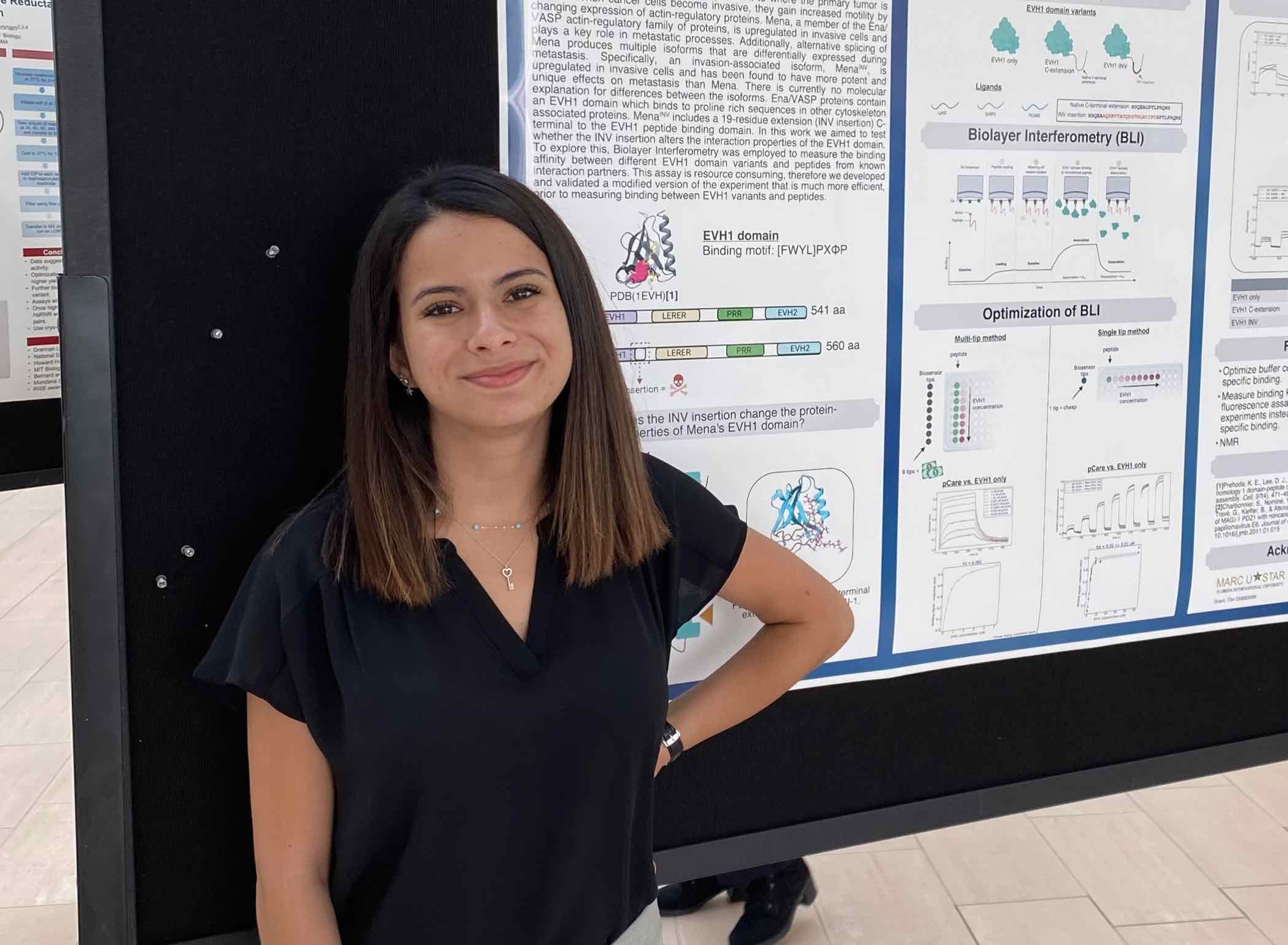 The MARC U*STAR program is equipping students with the skills to thrive in graduate school and land competitive jobs as researchers
Gisela Valencia | Florida International University
May 1, 2022
When Alejandra Ramos was 15 years old, she emigrated from Cuba to Miami with her family. She re-started her life, learned a new language and worked to understand the education system in her new home.
Today, she is set to graduate with a bachelor's in biochemistry and top-notch research experience under her belt — including a summer internship at Massachusetts Institute of Technology (MIT), which extended into an additional semester-long stay as a visiting research student at the invitation of that university. She will be graduating in the spring of 2022 and will begin her Ph.D. in biology at MIT in the fall.
What's the force behind her success? Her tenacity and her secret weapon: FIU's MARC U*STAR Program, which hosted an event where Ramos met representatives from MIT — all of which led to the internship. Funded by the National Institutes of Health and acting as a branch of the countrywide initiative, the MARC U*STAR program at FIU, housed within the College of Arts, Sciences & Education, prepares undergraduate fellows for careers in research through mentorship, internships and lab work.
"The greatest mission of the program is to increase diversity in biomedical research," says Amy Reid, the program's coordinator. "The idea is to provide opportunities for traditionally underrepresented students, so they are prepared to apply for graduate programs. They also make a two-year commitment to participate in a research lab. This all makes them very competitive."
Becoming researchers
The fellows earn hands-on experience at FIU labs — currently, students are researching topics including ovarian cancer, lung cancer, melanoma and the sleep cycles of mosquitoes. Students receive a stipend for their research work and a partial tuition waiver, as well as funding for travel to present their research at top national conferences, including the Annual Biomedical Research Conference for Minority Students (ABRCMS), where various students including Ramos have won awards for their work.
The students also participate in professional development workshops at FIU and enjoy a variety of networking opportunities to help them connect with future grad schools or employers — or simply to help them practice their professional communication skills.
"The FIU research mentors combined with the MARC program really give the students everything they need to be ready for graduate school," Reid says. "Critical thinking, learning how to develop and test a research question and all those extra soft skills, like learning how to interview."
The program requires students to participate in a summer internship at a university or organization outside FIU, giving them wide-reaching experiences and a greater competitive edge.
For biochemistry senior Celeste Marin, the summer internship — and the conferences — proved critical to discovering her dream job. While showcasing her research at an ABRCMS conference in 2020 (hosted virtually due to the pandemic), she met a representative from the renowned pharmaceutical company Eli Lilly. She was invited to interview for an internship at the company.
She succeeded and was offered the internship. Yearning to get a taste of the industry side of research, she accepted — and found her calling.
"During the internship, I realized I really want to work in the pharmaceutical industry," says Marin, who also won an award for her research at the 2021 ABRCMS conference. "I'm very interested in drug discovery or therapy. To me, that sense of discovery, of problem-solving, of being a scientist, that's what I find the most fun in terms of the work that I've done."
She decided to apply to pharmacology and biochemistry Ph.D. programs and was accepted into various institutions including the University of Pennsylvania, University of North Carolina at Chapel Hill and the University of Florida. She is graduating this week, and in the fall, she will begin her Ph.D. in biochemistry at Duke University.
She says MARC U*STAR's emphasis on networking was a gamechanger for her, one that allowed her to find her career.
"Networking was something I was iffy about," she says. "To introduce myself and my research, to go out of my way to do that, it seemed difficult before. Now that I've done it a few times, it's easier to go network, to have those moments of connection."
Making a difference
Thanks to the program, many Panthers like Marin and Ramos have gained connections, found career paths and landed crucial opportunities.
"Honestly, the MARC program has changed my life," Ramos says. "The program provided me with the tools, confidence and support that I needed to succeed. It gave me the confidence to apply to top graduate programs."
She applied and was accepted into MIT, Harvard, Stanford, UC Berkeley, University of Central Florida, Johns Hopkins, Columbia and UC San Francisco.
"I would have never thought of applying to those programs if it wasn't for the MARC program and [hearing about] previous fellows that have made it to those places," Ramos says. "I wouldn't be where I am today without the MARC program."
Graduate student Maria Jose Santiago agrees. Just a few years ago, Santiago worked full-time at Home Depot. Today, she's a doctoral student in biochemistry conducting pioneering research at FIU.
A Cuban immigrant who worked hard to support her family, Santiago sometimes felt her dream — earning a degree in biology — was impossible. But she worked hard, earned her associate's degree at Miami-Dade, and came to FIU ready to succeed. She heard about the MARC U*STAR program, and it opened her eyes to the career that was truly, completely possible to achieve.
"When I joined MARC U*STAR, I felt that I was part of the scientific community," recalls Santiago, who is now a McKnight Fellow and an FIU Transdisciplinary Biomolecular and Biomedical Sciences Fellow. "I felt like I belonged to something."
Santiago says that one of the greatest aspects of the program is Reid — who mentors, helps and guides students every step of the way — and the support system of the MARC staff and students.
"It wasn't just my principal investigator [researcher]. It was Amy [Reid]," Santiago says. "She was so sweet and caring. She helped me with applications, with everything. I didn't feel alone."
For her part, Reid says the students she helps are stars.
"Our students are extremely gifted," she says. "I love watching the students come in with little experience and by the end of two years they are so confident and their skill level is unbelievable. They do presentations at the caliber of graduate students. They are really amazing. I'm always floored by their capabilities and what they achieve."
If you're wondering whether you should try the program, Santiago has a message for you:
"You should apply," she says. "It's going to be the best experience of your life. You're going to have to work hard, but it's totally worth it. You shouldn't miss this opportunity."