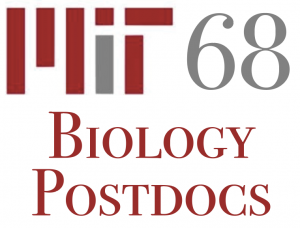 The Building 68 Postdoctoral Association (B68-PDA) consists of postdoctoral scholars working to build and maintain a supportive community among fellow postdocs in the MIT Department of Biology. Founded in 2015 and funded by the department, the mission of the B68-PDA is to:
Foster the Building 68 postdoc community,
Provide a forum for discussion of postdoc concerns,
Educate postdocs about topics relevant to their current and future positions,
Present opportunities for career development,
Encourage peer support and mentoring, and
Enhance scientific exchange
Contact
We host a number of monthly events and other initiatives (see below). Email us and follow us on Twitter to find out more or to get involved.
Committees and initiatives
Townhall Meeting
Buddy Program
Career and Networking Lunch Series
Mentoring Circles
MIT Biology Colloquia
Postdoc Work in Progress Seminar (WIPS)
Social Events
Science Slam
Calendar
Co-Chairs
Current Co-Chairs
Michaela Bartusel ●  Alexandra Pike
Past Chairs
Members
Current Members
Dana Westmoreland ● Danica Cui ● Gregory Dodge ● Jennifer Chu ● Jia Jia Zhang ● Laura Caccianini ● Lisa McLellan ● Nat Clarke ● Qing Feng ● Xiaoxue Snow Zhou ● Sri Srikant
Past Members