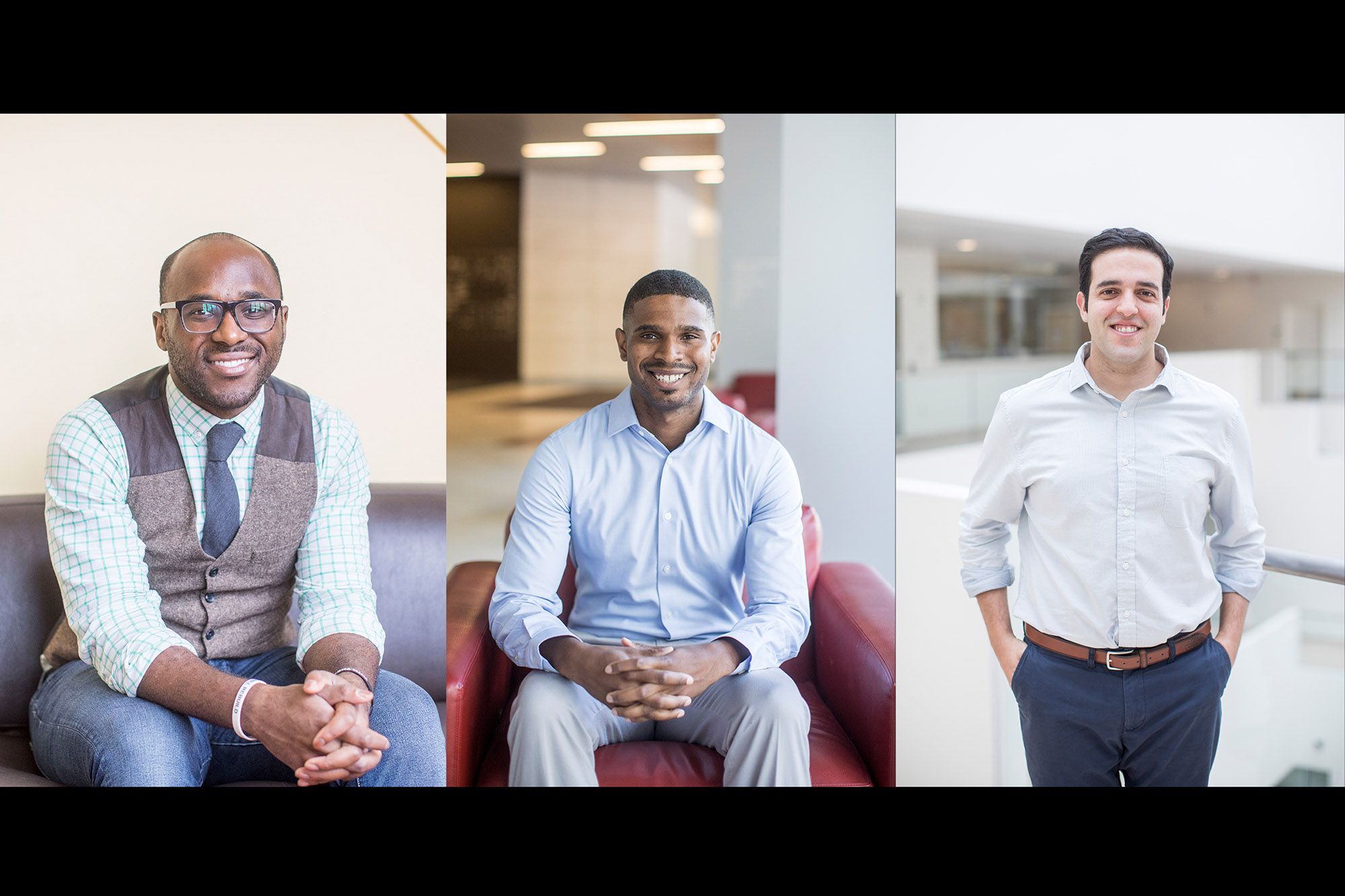 Three MIT postdocs earn competitive Howard Hughes Medical Institute fellowships that support diversity in the sciences.
David Orenstein | Erika Reinfeld | Lisa Girard | Picower Institute for Learning and Memory
September 12, 2018
In recognition of their exceptional potential to be leaders in the life sciences, three MIT postdocs at the Koch, Picower, and Whitehead institutes at MIT are among 15 young researchers to earn Hanna Gray Fellowships from the Howard Hughes Medical Institute (HHMI), the Chevy Chase, Maryland-based organization has announced.
The early-career awards are given to individuals around the U.S. who are from racial, gender, ethnic, and other groups underrepresented in the life sciences. The fellowships will support their work with up to $1.4 million in funding over eight years, enough to last well into a tenure track position after they complete their postdoctoral studies.
"This program will help us retain the most diverse talent in science," HHMI President Erin O'Shea said in the announcement. "We feel it's critically important in academia to have exceptional people from all walks of life, all cultures, and all backgrounds — people who can inspire the next generation of scientists."
MIT's three Hanna Gray Fellows are Matheus Victor, who works in the lab of Li-Huei Tsai in the Picower Institute for Learning and Memory; Quinton Smith, who works in Sangeeta Bhatia's lab at the Koch Institute for Integrative Cancer Research; and Jarrett Smith, who works in the David Bartel Lab at the Whitehead Institute for Biomedical Research.
Jarrett Smith
Jarrett Smith was always interested in science, but no one in his family had ever received a PhD, making biology research feel like an unlikely career path for him. Nevertheless, he followed his passion, which led him to his PhD program at the Johns Hopkins University School of Medicine. Despite his strong academic performance, Smith began graduate school with doubts about his ability to become a scientist. His mentors were incredible teachers, he says, but their self-assuredness could be intimidating.
"They were absolutely my role models, but I didn't think of them as having gone through what I was going through. In the first few years, I felt like I had a lot of catching up to do," Smith says.
Now, as a postdoc in David Bartel's lab at the Whitehead Institute, he studies how cells respond to stress. When a cell is exposed to environmental stressors such as heat, UV radiation, or viral infection, proteins and RNAs in the cell may clump together into dense aggregates called stress granules. The exact function of stress granules and their potential role in disease are unknown, so Smith is investigating changes in the cell linked to their formation. His findings could shed light on a potential role for stress granules in cancer, infection, and neurodegenerative disease.
"I'm grateful for the support that the fellowship will provide during the formative years of my career," Smith says. "This kind of opportunity gives you the confidence to set ambitious research goals and find out what you can accomplish."
Quinton Smith
Quinton Smith fell in love with regenerative medicine the summer after his sophomore year of college. Working on an epidemiological study at the University of New Mexico Cancer Research Facility in his hometown of Albuquerque, Smith found himself extracting DNA from hundreds of mouthwash samples in order to answer overarching questions about the biological and behavioral factors that contribute to cancer.
The experience left him with a strong appreciation for the complexities of human disease, and an even stronger desire to translate his knowledge into better interventions for patients. To this end, he completed his PhD at Johns Hopkins University, exploring a variety of engineering techniques to control and probe the differentiation of pluripotent stem cells. In 2017 he joined the laboratory of Sangeeta Bhatia, the John J. and Dorothy Wilson Professor at MIT's Institute for Medical Engineering and Science and Electrical Engineering and Computer Science and director of the Marble Center for Cancer Nanomedicine.
By then, the lab had already demonstrated success developing implantable "mini-livers" able to engraft and respond to regenerative stimuli in mice with damaged livers. However, the design is incomplete and Smith wants to incorporate a biliary tree to guide hepato-secreted bile acids that aid in the breakdown of fats but pose as a potential toxin to these therapeutic grafts. He is working to build such a tree with an unexpected tool — microfluidic vessels, forged by biomaterial-encapsulated acupuncture needles that, once removed, can be used to create a network of biliary-lined tunnels through which bile can flow.
The ability to bolster cutting-edge research is but one benefit of Smith's HHMI award. He and Bhatia praise the seeds the program plants within the academic environment, providing much-needed visibility that achievements in STEM are, and will continue to be, driven by scientists from all walks of life.
"I think this program is directing a shift in what a researcher looks like, offering a motivating exposure to the next generation of students who have the potential to impact science regardless of their background," Smith says. "This is an incredible and humbling opportunity to explore my passion for the promise of regenerative medicine, and to have the resources to tinker and extend my creativity around translational research."
Matheus Victor
As a graduate student at Washington University in St. Louis, Matheus Victor, a native of Recife, Brazil, who came to Florida at the age of 15, learned that in the U.S., Latino immigrants are rare among scientific researchers. But there he was, pursuing his dreams to become a neuroscientist. The realization inspired him to lead a Latin American student group at WashU and to conduct outreach activities including creating bilingual curricula for local students.
"I was so privileged to be in a top tier graduate program pursuing my interest," he said. "How many people get to pursue an interest? We live in a world where you have to earn money and you have to feed your family."
Now he's a new postdoc at MIT's Picower Institute for Learning and Memory in the lab of Institute director and Picower Professor Li-Huei Tsai, with a prestigious fellowship that will support him as he embarks on two investigations of the role of specific cell types in brain aging and cognitive decline.
In one, he plans to turn human induced pluripotent stem cells into microglia, an immune cell of the nervous system increasingly implicated in Alzheimer's disease, and implant them in the brains of mice where the original microglia have been removed. With this chimera model Victor can test how microglia with different genetic variations act in a mammalian brain to see how those variations might contribute to disease pathology.
In the other, he is interested in studying how inhibitory interneurons change in the aging brain. The neurons are of particular interest because they are the source of a crucial brain rhythm that is notably reduced in Alzheimer's disease. Understanding more about how they function and falter could help explain that important change.