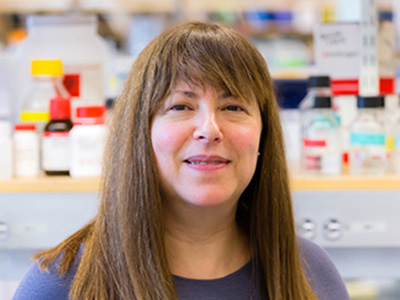 Picower Institute
February 8, 2019
Elly Nedivi, a professor in the Picower Institute and the Departments of Brain and Cognitive Sciences and Biology, has been named the inaugural William R. (1964) & Linda R. Young Professor of Neuroscience, the MIT School of Science announced.
Nedivi, an MIT faculty member since 1998, studies the cellular mechanisms that underlie activity-dependent plasticity in the developing and adult brain through studies of neuronal structural dynamics, identification of the participating genes, and characterization of the proteins they encode.
Her work to identify "candidate plasticity genes" has yielded many insights, including elucidating the neuronal and synaptic function of two previously unknown CPGs: CPG2 and CPG15. In a study published earlier this year, her lab showed that the protein CPG2 is significantly less abundant in the brains of people with bipolar disorder and showed how specific mutations in the SYNE1 gene that encodes CPG2 undermine the protein's expression and its function in neurons, potentially contributing to disease.
Motivated by the large number of CPGs that affect neuronal structure, her lab has also been collaborating with that of Peter So's in MIT's Department of Mechanical Engineering to develop multi-color two photon microscopy for large volume, high resolution imaging of dendritic arbor and synaptic structural dynamics in vivo. Nedivi's lab was the first to show unambiguous evidence of dendritic arbor remodeling in the adult brain, and identify inhibitory connections as the most plastic component of experience-dependent circuit rearrangements.
Nedivi thanked the Youngs for their support of neuroscience research at MIT.
"I recently met the Youngs, and share their view that study of the brain and mind is an area of science with tremendous potential to improve people's lives," she said. "I respect their wish to give back to MIT, and am deeply honored to be named the inaugural William R. (1964) & Linda R. Young Professor of Neuroscience."