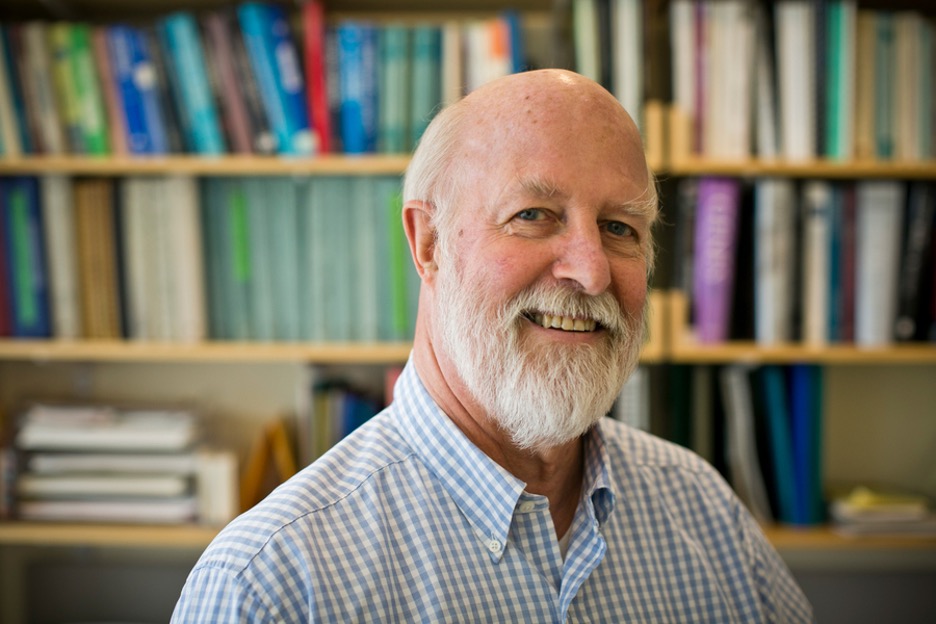 Hynes and two other scientists will share the prize for their discoveries of proteins critical for cellular adhesion.
Anne Trafton | MIT News Office
September 28, 2022
MIT Professor Richard Hynes, a pioneer in studying cellular adhesion, has been named a recipient of the 2022 Albert Lasker Basic Medical Research Award.
Hynes, the Daniel K. Ludwig Professor for Cancer Research and a member of MIT's Koch Institute for Integrative Cancer Research, was honored for the discovery of integrins, proteins that are key to cell-cell and cell-matrix interactions in the body. He will share the prize with Erkki Ruoslahti of Sanford Burnham Prebys and Timothy Springer of Harvard University.
"I'm delighted, and it's a pleasure to be sharing it with them," Hynes says. "It's great for the field, and for the trainees who did much of the work."
Hynes' research focuses on proteins that allow cells to adhere to each other and to the extracellular matrix — a mesh-like network that provides structural support for cells. These proteins include integrins, a type of cell surface receptor, and fibronectins, a family of extracellular adhesive proteins. Integrins are the major adhesion receptors connecting the extracellular matrix to the intracellular cytoskeleton.
During embryonic development, cell adhesion is critical for cells to move to the correct locations in the embryo. Hynes' work has also revealed that dysregulation of cell-to-matrix contact plays an important role in cancer cells' ability to detach from a tumor and spread to other parts of the body, in a process known as metastasis.
"Professor Hynes' contributions to the field of cancer biology, and more broadly, cellular biology, are numerous," says Nergis Mavalvala, the Curtis and Kathleen Marble Professor of Astrophysics and the dean of the School of Science. "His investigations of fundamental biological questions — How do cells interact? How do they stick together? — changed how scientists approach cancer research and opened up avenues in developing potential therapeutics to disrupt metastatic disease."
Born in Kenya, Hynes grew up in Liverpool, in the United Kingdom. Both of his parents were scientists: His father was a freshwater ecologist, and his mother a physics teacher. Hynes and all three of his siblings followed their parents into scientific fields.
"We talked science at home, and if we asked questions, we got questions back, not answers. So that conditioned me into being a scientist, for sure," Hynes says.
After earning his bachelor's and master's degrees in biochemistry at Cambridge University, Hynes decided to head to the United States to continue graduate school. Colleagues at Cambridge suggested MIT, so he came to the Institute and earned his PhD in 1971. After doing a postdoc at the Imperial Cancer Research Fund Laboratories in London, he returned to MIT in 1975 as a faculty member in the Department of Biology and a founding member of MIT's Center for Cancer Research (the predecessor of today's Koch Institute).
Hynes began his career as a developmental biologist, studying how cells move to the correct locations during embryonic development. As a postdoc, he began studying the differences in the surface landscapes of healthy cells and tumor cells. This led to the discovery of a protein called fibronectin, which is often lost when cells become cancerous.
He and others found that fibronectin is part of the extracellular matrix, the network of proteins and other molecules that support cells and tissues in the body. When fibronectin is lost, cancer cells can more easily free themselves from their original location and metastasize to other sites in the body. Cells bind to the matrix through cell surface receptors known as integrins. In humans, 24 integrin proteins have been identified. These proteins help give tissues their structure, enable blood to clot, and are essential for embryonic development.
"These cell-matrix adhesion proteins hold us all together," Hynes says. "If we didn't have them, we'd be a pool of cells on the floor. And they're contributors to lots of diseases: fibrosis, cancer, thrombosis, immune and autoimmune diseases. So, cell adhesion has become a huge field at both the basic science level and the therapeutic level."
Since joining the MIT faculty, Hynes has also served as head and associate head of the Department of Biology, and as director of the Center for Cancer Research. He has also served as scientific governor of the Wellcome Trust in the United Kingdom, and as co-chair of National Academy committees establishing guidelines for stem cell and genome editing research.
His many awards include the Gairdner Foundation International Award, the Distinguished Investigator Award from the International Society for Matrix Biology, the Robert and Claire Pasarow Medical Research Award, the E.B. Wilson Medal from the American Society for Cell Biology and the Paget-Ewing Award, Metastasis Research Society. Hynes is also a member of the National Academy of Sciences, the National Academy of Medicine, the Royal Society of London, the American Association for the Advancement of Science, and the American Academy of Arts and Sciences.
The Lasker Award comes with a $250,000 prize, which will be shared between the three recipients.