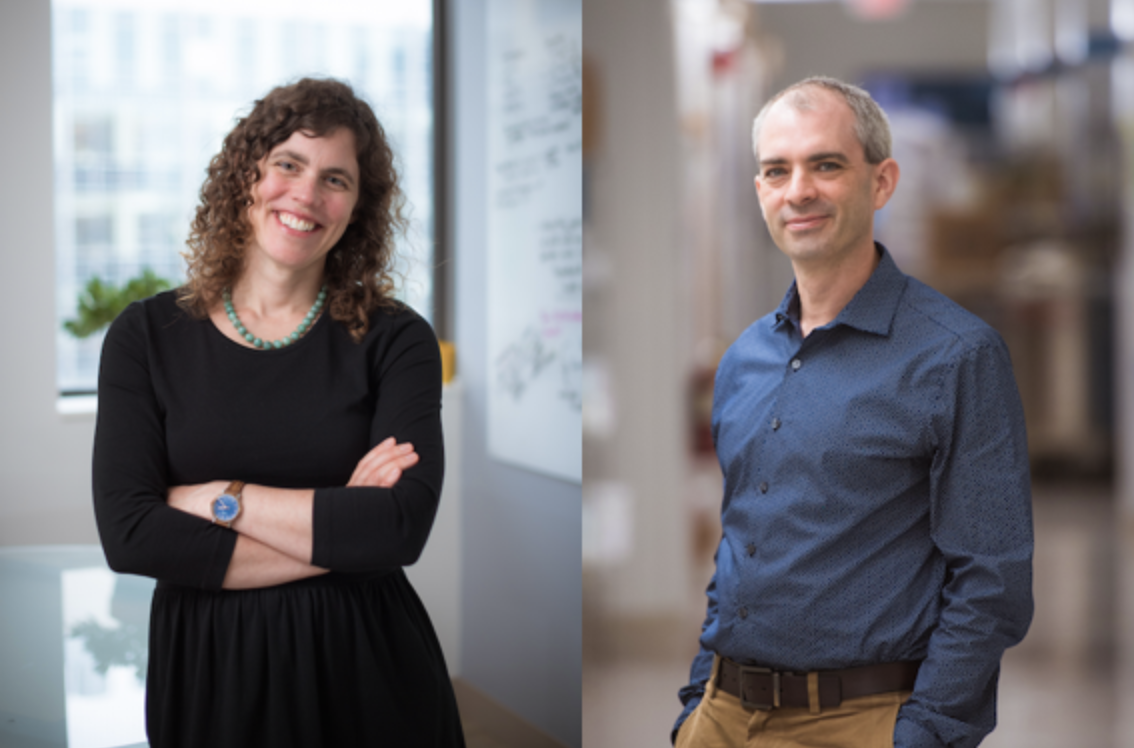 Whitehead Institute
June 26, 2020
At the heart of Whitehead Institute are its Members, a group of world-class investigators who propel science forward through their research discoveries and technical advances. Recently, Whitehead Institute singled out two Members for special recognition: appointment to endowed professorships, which provide financial support for their research programs and serve as an endorsement of their scientific visions.
Whitehead Institute Member Mary Gehring, who is also an associate professor of Biology at Massachusetts Institute of Technology (MIT), has been appointed to the Landon T. Clay Career Development Chair. "Mary is an emerging superstar in plant biology and a respected leader within the Whitehead Institute community," says Institute director David C. Page. "I know that Landon held her in high regard, and I think he would be very pleased that Mary is this chair's first incumbent."
Gehring recalls, "I met Landon on my very first day at Whitehead Institute. His curiosity, insight, and wide-ranging knowledge made that initial conversation absorbing — as was every subsequent discussion we had. His impact as an Institute board member was formidable, and I will hold the Clay Career Development Chair with pride."
Gehring's research focuses on plant epigenetics — the heritable information that influences cellular function but is not encoded in the DNA sequence itself. Primarily using the model plant Arabidopsis thaliana, Gehring has determined that altering the methylation state of a single gene is sufficient to cause changes in seed weight and in the timing of certain aspects of seed development. Methylation patterns can be passed from one cell generation to the next and from one plant to its offspring. By studying the epigenetic difference between multiple generations of plants, Gehring seeks to learn if epigenetic responses to environmental factors can ultimately lead to evolutionary changes. Her work has tremendous implications for addressing food security in a period of significant climate change.
Institute Member Iain Cheeseman has been appointed to the Margaret and Herman Sokol Chair in Biomedical Research. He succeeds Member and former director Gerald Fink, who held the chair since it was established in 2006. "Iain is an extraordinary scientist, a dedicated teacher, and a wonderful colleague," says Page. "He is, therefore, the perfect person to succeed Gerry in the Sokol Chair."
"This is a great honor," says Cheeseman, who is also a professor of Biology at MIT. "I am humbled to hold a chair named for Margaret and Herman Sokol, who were among Whitehead Institute's earliest and most ardent supporters; and a chair that has so long been associated with Gerry Fink."
Cheeseman's research focuses on the kinetochore — a central player in directing chromosome segregation — which comprises more than 100 different proteins. Although the kinetochore's importance has long been appreciated, the molecular basis for its many activities remains poorly understood. His lab has helped identify dozens of the kinetochore's molecular components and their specific roles, and is defining how the attachments between kinetochores and spindle microtubules are regulated throughout cell division. Because many cancers may be driven by errors in chromosome segregation, Cheeseman's studies may inform cancer research — and may contribute to development of more effective treatments for leukemia and other diseases.
Earlier this spring, Whitehead Institute announced appointments to two other endowed chairs.
Cell biologist Jonathan Weissman, who recently became a Member, is the inaugural incumbent of the Landon T. Clay Chair of Biology at Whitehead Institute. And in September 2020, developmental biologist Yukiko Yamashita will join the Institute and become the inaugural incumbent of the Susan Lindquist Chair for Women in Science at Whitehead Institute.