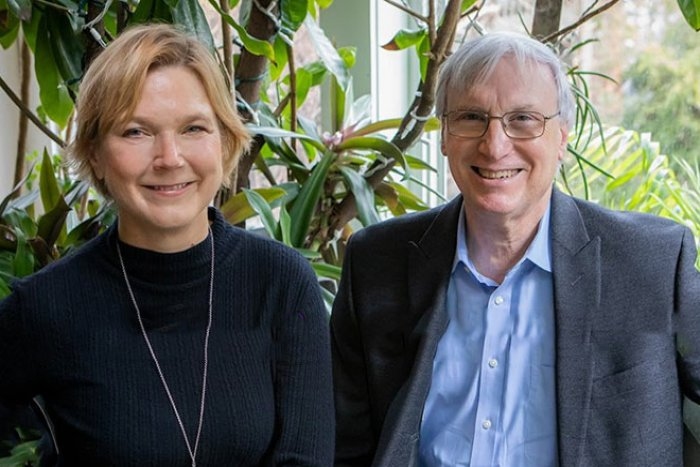 Professors awarded the National Academy of Engineering's prestigious Bernard M. Gordon Prize for Innovation in Engineering and Technology Education.
School of Engineering
March 11, 2021
The National Academy of Engineering (NAE) has announced that two MIT professors have been jointly awarded the Bernard M. Gordon Prize for Innovation in Engineering and Technology Education, the most prestigious engineering education award in the United States.
Linda G. Griffith, the School of Engineering Professor of Teaching Innovation in the Department of Biological Engineering, and Douglas A. Lauffenburger, the Ford Professor of Biological Engineering, Chemical Engineering and Biology, were recognized for their respective contributions to "the establishment of a new biology-based engineering education, producing a new generation of leaders capable of addressing world problems with innovative biological technologies," according to an NAE statement.
"We are absolutely delighted that professors Griffith and Lauffenburger received this prestigious prize from the NAE," says Angela Belcher, head of the Department of Biological Engineering. "Anyone who knows Doug Lauffenburger and Linda Griffith knows that educating and mentoring in engineering, particularly biological engineering, is at the core of who they are."
Griffith and Lauffenburger spearheaded the establishment of the biological engineering discipline at MIT, which revolves around teaching students how to translate innovations in the molecular life sciences into therapeutics, and a range of non-medical products in agriculture, materials, energy, and nutrition.
"Professor Griffith and Professor Lauffenburger have made incredible contributions to education in biological engineering," says Anantha P. Chandrakasan, dean of the MIT School of Engineering and the Vannevar Bush Professor of Electrical Engineering and Computer Science. "They have both been fundamental in establishing and shaping the biological engineering curriculum at MIT, and continue to inspire current and former students in this space."
Griffith championed the biological engineering BS degree program, while Lauffenburger focused his efforts on the graduate level. Students who have participated in the curriculum have gone on to found innovative startups, such as Gingko Bioworks.
"The award is really in recognition of the power of MIT students to create change," says Griffith. "The creation of a new discipline of engineering was a lot of effort, but it was done in partnership with students who were brave enough to imagine what could be."
In addition to her achievements in education, Griffith directs the Center for Gynepathology Research and has championed novel approaches in tissue engineering. She is also responsible for establishing the field of physiomimetics.
She holds more than a dozen patents, has over 200 publications, and has chaired multiple scientific conferences, including the annual TED conference-like Open Endoscopy Forum that assembles gynecology scientists, surgeons, and engineers at MIT for a weekend of talks.
Lauffenburger is affiliated with multiple biomedical organizations including the Center for Gynepathology Research, Center for Biomedical Engineering, and Koch Institute for Integrative Cancer Research at MIT. He is a past president of the Biomedical Engineering Society and currently the chair of the College of Fellows of American Institute for Medical and Biological Engineering.
Both Griffith and Lauffenburger hope that their accomplishments at MIT will help propel biological engineering forward on a global level.
"The world needs biology-based technologies to address a broad spectrum of critical challenges that have not been satisfactorily met by physics- and chemistry-based technologies," says Lauffenburger. "Our aspiration, and expectation, is that what we've created here will catalyze adoption of biology-based engineering at many other institutions worldwide in the coming years."
Established in 2001, the Gordon Prize includes a cash award of $500,000, of which Griffith and Lauffenburger will receive half. The other half will go to support biological engineering education efforts at MIT. Griffith and Lauffenburger will also each receive a gold-plated, sterling silver medal and a hand-scribed certificate.