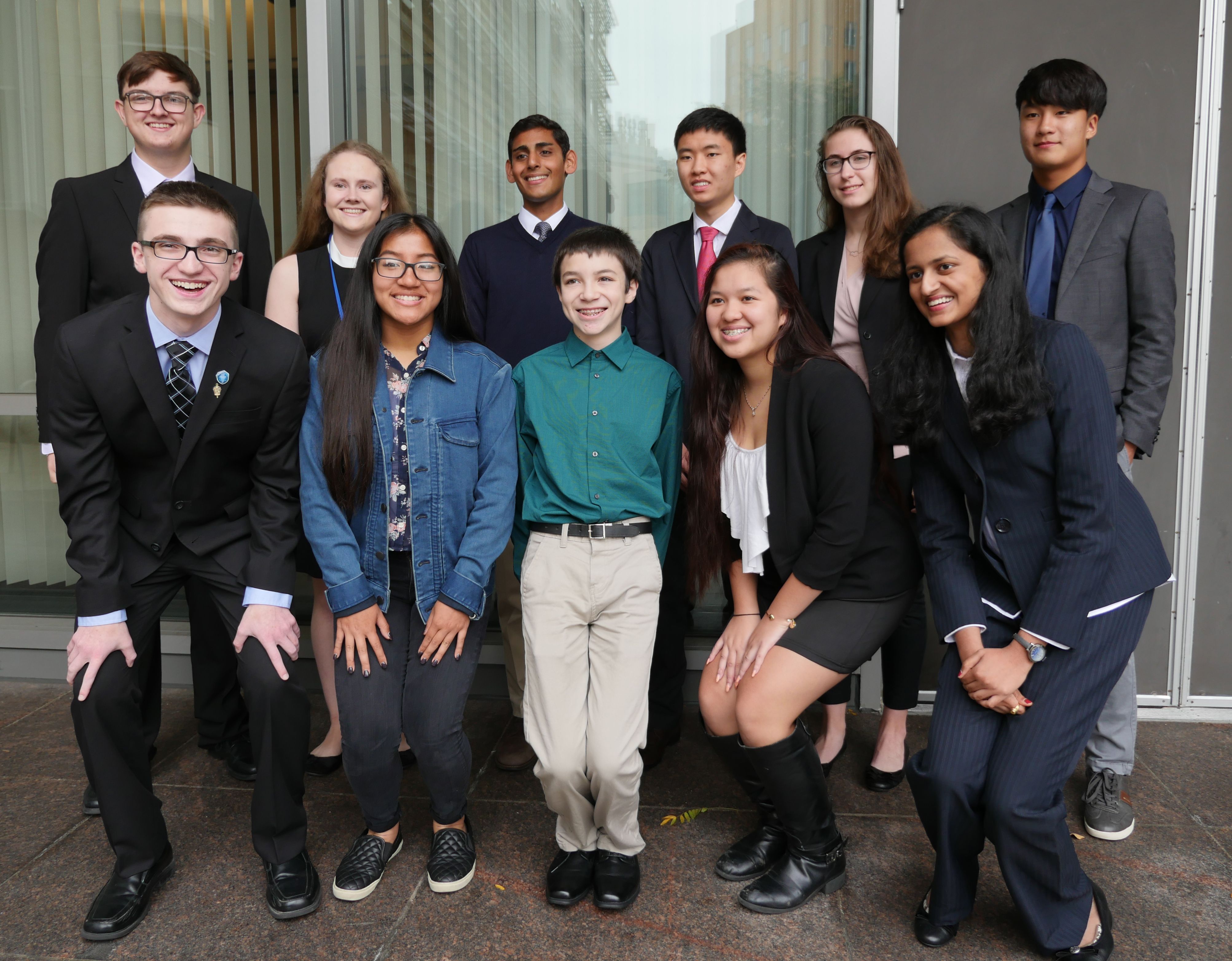 High school students present research projects to build communication skills while earning membership to the American Junior Academy of Science.
Raleigh McElvery | Department of Biology
October 24, 2017
On Oct. 14, 22 school students from across the state presented their research projects at the annual Massachusetts Junior Academy of Science (MassJAS) Symposium.
The talks were split into two concurrent sessions based on subject: biological and environmental sciences; and engineering, chemistry, mathematics, and physics. Participants were selected based on merit and ranking in this year's Massachusetts State Science and Engineering Fair.
Judges nominated three students from the biology session and four from physics and engineering as American Junior Academy of Science (AJAS) delegates. Delegates are invited to attend the AJAS Convention, which will be held in Austin, Texas this coming February. The AJAS is a national honor society that meets annually in conjunction with the American Association for the Advancement of Science — the world's largest science organization and the publisher of Science. All participants were inducted as AJAS fellows.
The sessions took place in adjacent lecture rooms in Building 68. The event was organized by Mandana Sassanfar, director of diversity and science outreach for MIT's Department of Biology and Department of Brain and Cognitive Sciences, as well as the director of MassJAS. During the event, delegates toured local research institutions, shared their projects with others in the field, and attended conference sessions.
At this year's MassJAS symposium, the jury for the biological and environmental science session was composed of three graduate students and postdoc from the MIT Department of Biology.
"I really enjoyed hearing how these projects came to be, and what inspired students to ask their respective research questions," said Sora Kim, a third year graduate student in Tania Baker's lab and a returning judge. "Some students did these projects at home, while others had collaborations with researchers at local universities. In many cases, these were their first science projects, so being able to understand their own projects and also convey their ideas to a more general audience is really important."
First-time judge Summer Morrill, a third year graduate student in Angelika Amon's lab, agreed that learning to present ideas clearly in ways that inspire others is key to the scientific process. "I was excited to hear what people at the high school level think is important in science, because they're the next generation of scientists," she said.
Each participant had ten minutes to present, followed by an audience question-and-answer session. The biology-related talks ranged from antimicrobial resistance to gene editing techniques to the effects of wifi router radiation.
Joshua Powers and Natalia Huynh, both juniors at the Everett High School STEM Academy, presented first, describing the results of their summer research project at MIT as part of the LEAH Knox Scholars pilot program. Powers and Huynh pooled their findings, isolating and characterizing bacterial specimens from the Charles River.
"We're friends and we both go to the same high school, so it was easy to collaborate with both our ideas and our data," said Powers. "The LEAH Knox Scholars program was intense in that we had the chance to perform more advanced procedures with equipment we've never used before in school."
Huynh also enjoyed tackling larger research questions with more refined tools, adding, "We practiced explaining our results this summer, so today's presentation was similar to what we'd already done — but a little more intense because it was a competition."
Nancy Cianchetta, who teaches biotechnology at Everett High School and serves as the coordinator for the STEM Academy, said Powers and Huynh will be part of the very first class to graduate from the Academy. She and many of her students have participated in MIT biology outreach programs over the years.
"I've taken my classes here for field trips and career exploration days, and many of my students come for the spring lecture series at the Whitehead Institute," she said. "The kids get so excited to come to MIT."
While some participants shared data they'd only just begun to analyze, others had been tackling the same research question for over a year.
Evan Mizerak, a returning MassJAS Symposium winner and senior at Wachusett Regional High School, has spent the past two-and-a-half years collaborating with researchers at the University of Massachusetts Medical School on his project related to heritable infertility in fruit flies.
Mizerak attended last year's AJAS Convention in Boston, as well as the MIT-sponsored Breakfast with Scientists. This year, delegates met with esteemed faculty, including Institute Professor Phillip Sharp, the winner of the 1993 Nobel Prize in physiology or medicine and a member of the Department of Biology and the Koch Institute for Integrative Cancer Research.
"The AJAS Convention was incredible last year, because we had the chance to meet researchers from around the country — not just in and around Massachusetts," he said. "At the Breakfast with Scientists, we met with Nobel Prize winners. Being introduced to people I consider celebrities was just amazing."
"You wouldn't expect anyone that famous to be interested in our work," added Emma Kelly, a junior from Newton Country Day School and also a returning presenter. "But these professionals were genuinely curious, and often gave us ideas for new projects and things like that. It was such an incredible opportunity."