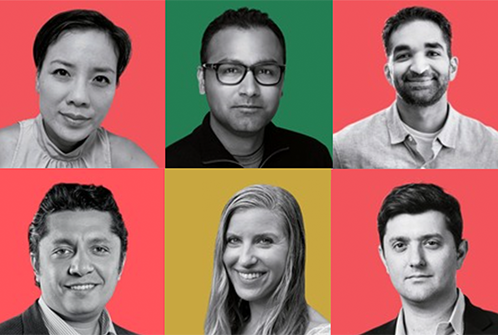 Julie Fox | Slice of MIT
October 21, 2020
To mark a year of "monumental change," the editors of Fortune say they decided to upend the publication's annual "40 Under 40" feature, forgoing a single list and instead highlighting 40 influential people in each of five categories: finance, technology, health care, government and politics, and media and entertainment.
Read on to meet the six MIT alumni who made this year's list. And learn more about them and the other honorees on the Fortune 40 Under 40 website. (All images via Fortune.)
Fortune 2020 "40 Under 40": MIT Alumni
Amir Barsoum MBA '20 (Health Care)
Founder and CEO, Vezeeta
"A Zocdoc-like platform…to empower people with information about health providers that has been traditionally hard to find in the region." Read more: Fortune.
Suelin Chen '03, SM '07, PhD '10 (Health Care)
CEO, Cake
"A web-based service that helps users plan for their end-of-life goals and wishes." Read more: Fortune.
Jason Kelly '03, PhD '08 (Health Care)
Cofounder and CEO, Ginkgo Bioworks
"The company's early investment in automation made it uniquely well equipped to tackle Covid-19…building a facility capable of testing 100,000 samples a day." More: Fortune.
Akshay Naheta SM '04 (Finance)
Senior vice president of investments, SoftBank Group
"Helping implement the [Japanese telecom] company's multibillion-dollar plan to win back shareholder confidence." More: Fortune.
Kartik Ramamoorthi PhD '14 (Health Care)
Cofounder and CEO, Encoded Therapeutics
"An inventor and provisional patent holder with more than a dash of scientist and entrepreneurial spirit." More: Fortune.
Rebecca Elizabeth Lipon Weekly '03 (Technology)
Senior director of cloud business strategy and platform enabling, Intel Corporation
"Helps craft products and features to appeal to Intel's cloud provider customers amid fierce competition from AMD and Nvidia." More: Fortune.