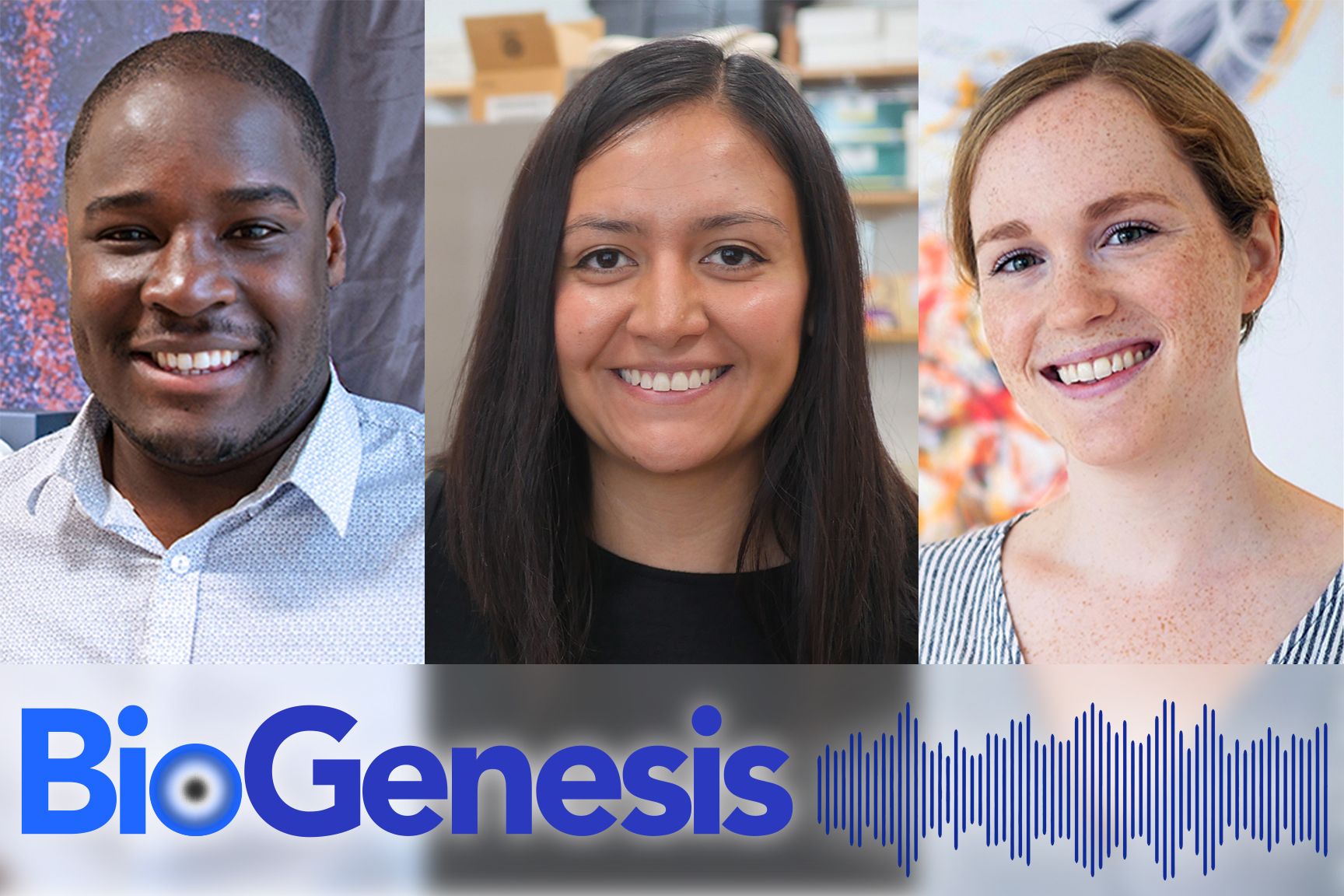 The MIT Department of Biology and Whitehead Institute are producing a podcast featuring young scientists and why they chose to study biology.
Department of Biology | Whitehead Institute
October 16, 2019
The MIT Department of Biology and Whitehead Institute have launched "BioGenesis," a new podcast highlighting affiliated graduate students and their stories about where they came from, and how their experiences have shaped their research.
In each episode, co-hosts Raleigh McElvery, communications coordinator at the Department of Biology, and Conor Gearin, digital and social media specialist at Whitehead Institute, introduce a different student and — as the title of the podcast suggests — explore the guest's origin story.
This first season centers on the theme of surprises. The inaugural episode features Kwadwo Owusu-Boaitey, a soccer player-turned MD/PhD student studying tissue regeneration in planarians, a type of flatworm. Owusu-Boaitey was struggling to find an effective means to map the stem cells in these remarkable animals when he happened upon a new tool that would allow him to do just that, and probe how the flatworm can regrow its entire body.
The second episode features Alicia Zamudio, who grew up in Mexico City, Mexico, intent on attending college in the United States and studying human behavior. Although she initially intended to pursue writing or psychology, one class persuaded her to consider molecular biology instead — with a focus on how cells control the expression of genes that dictate the identity of every cell in our bodies.
The third episode features Summer Morrill, who was determined to use her background in biology to become a genetic counselor before arriving at MIT and becoming captivated by fundamental cellular biology. Now, she investigates cancer and other diseases from a molecular perspective, asking what happens when chromosomes mis-segregate and cells end up with an improper number of genes.
BioGenesis is part of a larger effort to share the personal stories behind scientific discoveries, clarifying the experimental process and demonstrating the importance of fundamental biology research in the MIT community and beyond. From studying tissue regeneration in worms to probing the molecular basis for disease, fundamental research has ramifications far beyond the lab bench.
"The enthusiasm for basic biology that these graduate students have, and their excitement for sharing their science with the world, really impressed us," Gearin says.
"Hearing them revisit the moments and people that initially inspired them to pursue research underscored the importance of good mentorship — and the many ways that fundamental biological discoveries can impact society," McElvery adds.
BioGenesis is available on iTunes, SoundCloud, Spotify, and Google Play, as well as the podcast pages for the MIT Department of Biology and Whitehead Institute.