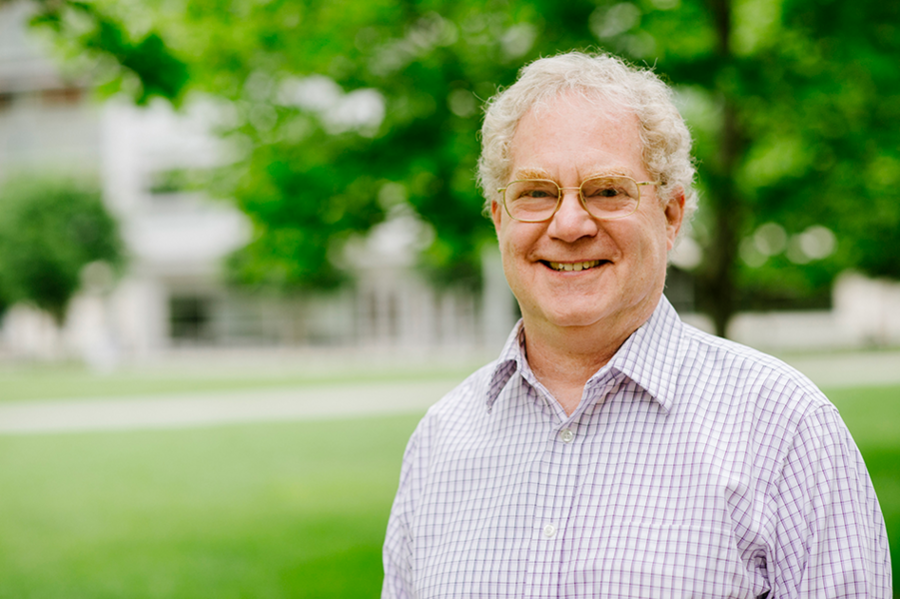 Grossman led the biology community for eight years, increasing faculty diversity, support for outreach programs and graduate students.
School of Science
February 23, 2022
Alan D. Grossman, the Praecis Professor of Biology at MIT, has announced he will step down as the head of the Department of Biology before the start of the next academic year. He will continue to lead the department until the new head is selected. A search committee will convene later this spring to recommend candidates for Grossman's successor.
"Alan Grossman is an outstanding biologist who is, and has been, deeply committed to the research and educational missions of the biology department," says Nergis Mavalvala, the Curtis and Kathleen Marble Professor of Astrophysics and the dean of the MIT School of Science. "He has time and again established MIT biology as a leader in the life sciences at the Institute, in Kendall Square, and beyond."
"It has been a privilege to lead this department and its talented members — faculty, staff, and students — for the past eight years," says Grossman. "With the dedication and drive of this community, we have accomplished so much together and set new and ambitious goals for the future of life sciences research and education."
Grossman was instrumental in securing a $50 million gift from Professor Emeritus Paul Schimmel PhD '66 and his family to support life sciences across the Institute. Schimmel's initial gift of $25 million established the Schimmel Family Program for Life Sciences that matched $25 million secured from other sources in support of the Department of Biology. The remaining $25 million from the Schimmel family will support the Schimmel Family Program in the form of matching funds.
"This transformative gift provides students with the resources they need to be successful in their education, research, and careers," says Institute Professor Phillip A. Sharp, who also contributed to the matching gift. "Alan's leadership and vision provided the framework to make this gift a reality for graduate students who perform life sciences research across the Institute, not just in biology."
For many years, Grossman was deeply involved in graduate education. He served on the committees that oversee the graduate program in biology and the interdepartmental graduate program in computational and systems biology. For seven years, Grossman was director or co-director of the biology graduate program. He helped establish the interdepartmental graduate program in microbiology in 2007 and served as its founding director until 2012.
Before assuming the role as department head, Grossman also served the department as associate head and had served MIT on several committees, including as a member of the Committee on Curriculum and the Faculty Advisory Committee for the Office of Minority Education. Through the work of the department's academic officers, student leaders, and advisors, Grossman oversaw the development of the most recent interdisciplinary undergraduate biology major, Course 5-7 (Chemistry and Biology).
Within his department, Grossman raised funds to endow support for students in the MIT Summer Research Program in Biology (MSRP-Biology). He worked with others to expand the diversity of the graduate program, the applicant pool for biology faculty positions, and the scientific workforce through a variety of outreach programs and endeavors.
Recently, Grossman raised additional funds to endow MSRP-Biology. Michael Gould and Sara Moss supplemented their initial gift in 2015 with an additional donation to further support, endow and rename MSRP-Biology to the Bernard S. and Sophie G. Gould MIT Summer Research Program in Biology to honor Gould's parents.
"Sara and I are grateful for Alan's nurturing of the program," said Gould. "Without Alan, we never would have supported this wonderful program; and with Alan at the helm and Mandana Sassanfar as the director of outreach, we knew that many talented individuals would benefit from the research opportunities at MIT."
Grossman's tenure also saw the establishment of a cryo-electron microscopy (cryo-EM) facility at MIT. An anonymous donation of $5 million and a $2.5 million gift from the Arnold and Mabel Beckman Foundation supported the purchase of two cryo-electron microscopes that are housed in MIT.nano. These microscopes are used by life science researchers from many departments across MIT and throughout the Boston area.
"The existence of this facility has made it possible for MIT to recruit outstanding junior faculty members focused on using cryo-EM to address fundamental biological problems," says associate department head Professor Jacqueline Lees. "At a more general level, Alan has been remarkably successful at junior faculty recruitment and in increasing the diversity of our faculty."
During Grossman's tenure as department head and in collaboration with the MIT-affiliated life sciences institutes and the hard work of search committees, the department has hired more than 20 faculty members, over than half of whom are women and/or from groups underrepresented in STEM. This faculty renewal involved forging a relationship with the Ragon Institute of MGH, MIT, and Harvard and includes three new faculty members located at the Ragon Institute. With the influx of new faculty members, the department's senior faculty instituted a robust plan for mentoring junior faculty, supplementing programs that are offered at the school and Institute levels.
In his own research, Grossman combines a range of approaches — genetic, molecular, physiological, biochemical, cell-biological, and genomic — to study fundamental biological processes in bacteria. His current work is focused mechanisms controlling horizontal gene transfer, the process by which bacteria move genes from one organism to another, the primary means by which antibiotic resistances are spread among bacteria.
Grossman received a BA in biochemistry from Brown University in 1979, and a PhD in molecular biology from the University of Wisconsin at Madison in 1984. After a postdoctoral fellowship in the Department of Cellular and Developmental Biology at Harvard University, Grossman joined MIT's Department of Biology in 1988. He is a fellow of the American Academy of Arts and Sciences, the American Academy of Microbiology, and is a member of the National Academy of Sciences. He received a life-saving heart transplant in 2006.