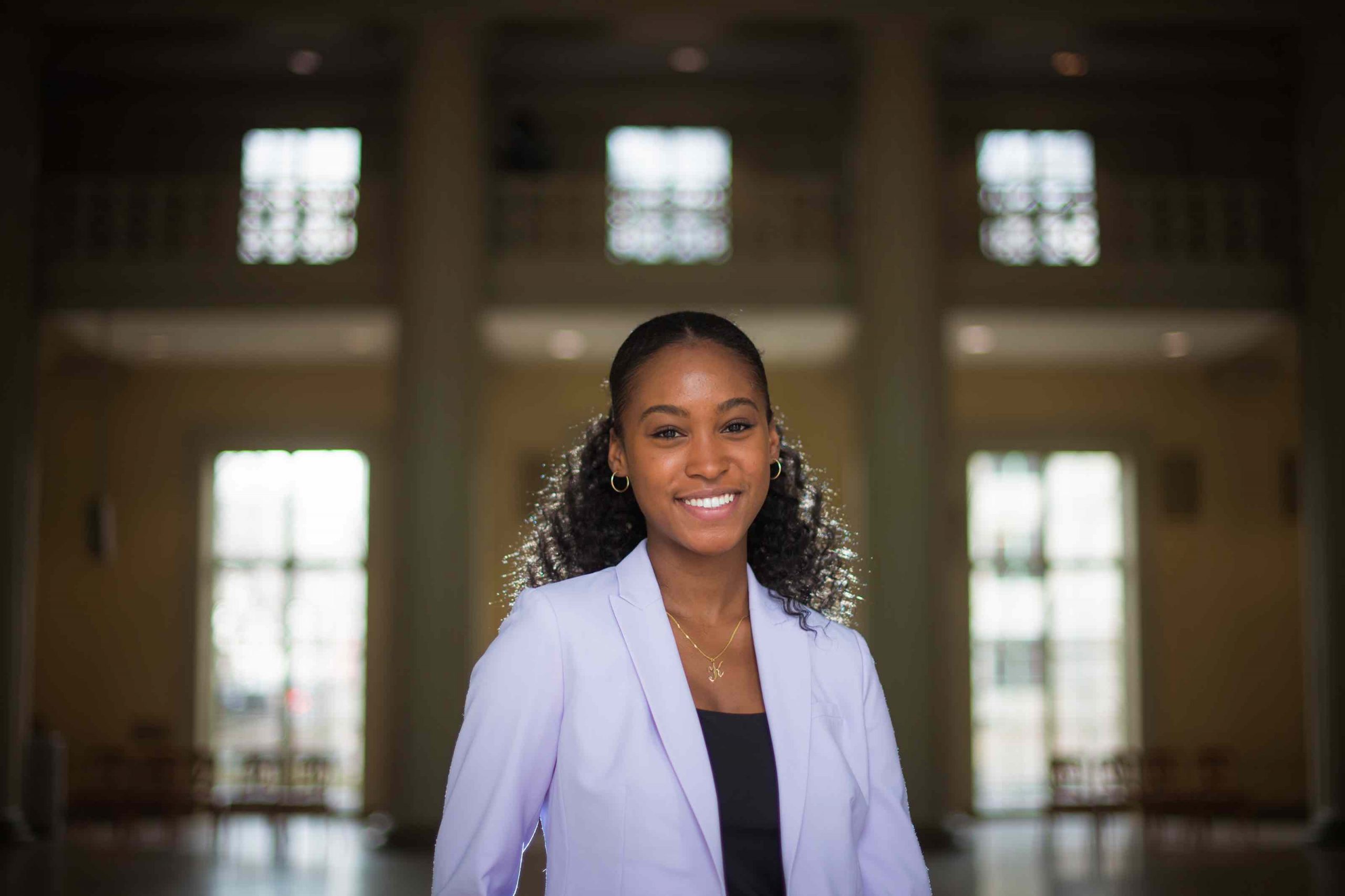 Through on-site projects in developing countries and internships in the business world, Kendyll Hicks explores the political and economic drivers of global health.
Becky Ham | MIT News Office
March 1, 2020
After spending three weeks in Kenya working on water issues with Maasai women, Kendyll Hicks was ready to declare it her favorite among the international projects she's participated in through MIT.
As a volunteer with the nonprofit Mama Maji, Hicks spoke about clean water, menstrual hygiene, and reproductive health with local women, sharing information that would enable them to become community leaders. "In rural Kenya, women are disproportionately affected by water issues," she explains. "This is one way to give them a voice in societies that traditionally will silence them."
The team also planned to build a rainwater harvesting tank, but climate change has transformed Kenya's dry season into a rainy one, and it was too wet to break ground for the project. During her stay, Hicks lived in the home of the first female chief of the Masaai, Beatrice Kosiom, whom Hicks describes as "simultaneously a political animal and the most down-to-earth-person." It was this close contact with the community that made the project especially fulfilling.
During MIT's Independent Activities Period, Hicks also has traveled to South Africa to learn more about the cultural and biological determinants of that country's HIV/AIDS epidemic, and to Colombia to lead an entrepreneurial initiative among small-scale coffee farmers. Hicks joined the Kenya trip after taking an MIT D-Lab class on water, sanitation, and hygiene. Each experience has been successively more hands-on, she says.
"I've been drawn to these experiences mainly because I love school, and I love the classroom experience," Hicks says. "But it just can't compare to living with people and understanding their way of life and the issues they face every day."
Hicks, a senior majoring in computer science and molecular biology, says she has shifted her focus during her time at MIT from more incremental technical discoveries to addressing larger forces that affect how those discoveries contribute — or fail to contribute — to global health.
Her love of biology began with animals and zoology, later expanding into an interest in medicine. "Humans are these amazing machines that have been crafted by nature and evolution, and we have all these intricacies and mechanisms that I knew I wanted to study further," Hicks says.
At the same time, she says, "I've always been interested in health care and medicine, and the main impetus behind that is the fact that when someone you love is sick, or if you're sick, you'll do whatever you can."
As a first-year student she worked in the Lippard Lab at MIT, helping to synthesize and test anticancer compounds, but she soon decided that lab work wasn't the right path for her. "I made the realization that health care and medicine are extremely political," she recalls. "Health policy, health economics, law — those can be the drivers of real large-scale change."
To learn more about those drivers, Hicks has worked two summers at the management consulting firm McKinsey and Company, and will take a full-time position with the company after graduation.
"As someone immersed in the world of science and math and tech, I had this lingering insecurity that I didn't know that much about this entirely different but super-important area," she says. "I thought it would be important to understand what motivates business and the private sector, since that can have a huge effect on health care and helping communities that are often disenfranchised."
Hicks wants to steer her work at McKinsey toward their health care and hospital sector, as well as their growing global health sector. Over the long term, she is also interested in continuing fieldwork that involves science, poverty eradication, and international development.
"Being at MIT, it's like this hub of tech, trying to venture further into novel breakthroughs and innovations, and I think it's amazing," Hicks says. "But as I have started to garner more of an interest in politics and economics and the highly socialized aspects of science, I would say it's important to take a pause before venturing further and deeper into that realm, to make sure that you truly understand the downstream effects of what you are developing."
"Those effects can be negative," she adds, "and they oftentimes impact communities that already are systematically and institutionally oppressed."
Hicks joined MIT's Black Students Union as a first-year student and now serves as the BSU Social and Cultural Co-Chair. In the role, she is responsible for planning the annual Ebony Affair fly-in program, which brings more than 30 black high school students to campus each year to participate in workshops, tour labs, and join a gala celebration with BSU students, faculty, and staff. "We're doing our best as a community to convince young bright black minds to come to a place like MIT," she says.
It worked for Hicks: She participated in Ebony Affair as a high schooler, and the experience cemented her decision to attend. "When I saw everyone showing out and having such pride in being black and being at MIT, I was like, 'OK, I want to be a part of that,'" she recalls.
Last year, Hicks planned BSU's first Black Homecoming event, a barbecue that brought together current and former black MIT students — some who attended the school 50 years ago. The event was a celebration of support and a way to strengthen the BSU network. "You have to do what you can to cultivate communities wherever you are, and that's what I've tried to do here at MIT," she says.
Hicks also served as the Black Women's Alliance alumni relations chair and GlobeMed's campaigns co-director, and was on the Undergraduate Association Diversity and Inclusion Committee. She has discovered a love of event organizing and leadership at MIT, although it has been a change of pace from her former shy, "hyper-bookworm" self, she says.
"I have realized that in my career that I really want to do a lot of good and affect a lot of change in people's lives, and in order to do that, you kind of have to be this way."