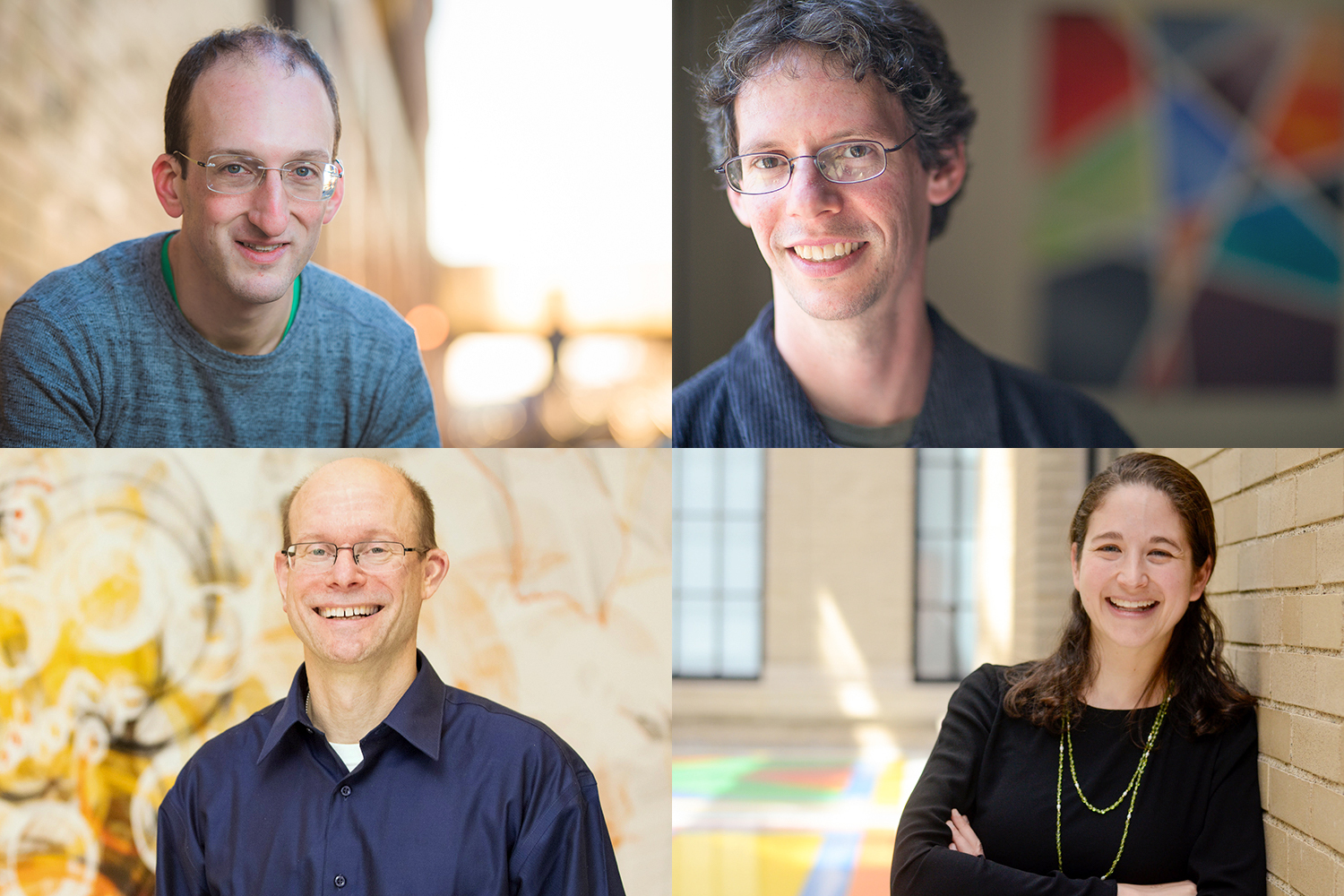 Professors Guth, Olivetti, Short, and Yaffe are honored for exceptional undergraduate teaching.

Registrar's Office
March 11, 2021
The Office of the Vice Chancellor and the Registrar's Office have announced this year's Margaret MacVicar Faculty Fellows: professor of mathematics Larry Guth, associate professor of materials science and engineering Elsa Olivetti, associate professor of nuclear science and engineering professor Michael Short, and professor of biology and biological engineering Michael Yaffe.
For nearly three decades, the MacVicar Faculty Fellows Program has recognized exemplary and sustained contributions to undergraduate education at MIT. The program was named after Margaret MacVicar, the first dean for undergraduate education and founder of the Undergraduate Research Opportunities Program (UROP). Departments must submit nominations along with recommendation letters from the nominees' colleagues, students, or alumni. The selection process is highly competitive. Award recipients are appointed to a 10-year term and receive $10,000 per year of discretionary funds. Junior faculty are eligible for an initial three-year term with the possibility of conversion to a 10-year term if tenure is granted.
The 2021 fellows join an elite group of scholars from across the Institute who are committed to curricular innovation, scientific research, and improving the student experience through teaching, mentoring, and advising. Within each of their departments, Guth, Olivetti, Short, and Yaffe have made groundbreaking discoveries, created new subjects, breathed life into longstanding MIT subjects and programs, and gone the extra mile to support and connect with their students.
They will be recognized at a private, virtual gathering on March 12 along with the 2020 fellows — associate professor of materials science and engineering Polina Anikeeva, professor of literature Mary Fuller, associate professor of chemical engineering William Tisdale, and professor of electrical engineering and computer science Jacob White — whose celebration was canceled last spring due to Covid-19.
Larry Guth
A Claude E. Shannon Professor of Mathematics, Larry Guth received his PhD from MIT in 2005 and became a professor in the mathematics department in 2012. He received both the Maryam Mirzakhani Prize in Mathematics and the American Mathematical Society's Bocher Prize last year.
Guth's research combines mathematics and mathematical analysis (metric geometry and harmonic analysis specifically), but his special talent lies in his ability to gracefully translate complex information into succinct and digestible terms and communicate these principles to individuals of all levels.
Professor of mathematics Gigliola Staffilani says, "for most of us theoretical mathematicians, our advancement in our research does not make its way into our undergraduate classes. For Larry, it is different. He is capable of distilling the thought process that goes into his most sophisticated papers and present it to his students in an incredibly effective way."
Junior Dina Atia wrote, "It turned out that Guth's approach to advising is the same as his approach to integration. Whenever I came to him with a problem that felt huge and complicated, he did the same thing: cut it into small pieces and added them all up."
Students say his classes are challenging, yet approachable and inclusive. One notes, "He has an incredible ability to place himself in his students' shoes and make them feel heard." Another student nominator remarks that Guth's approach changed her relationship with mathematics as a discipline: "Before coming to MIT, I had decided that mathematics was not for me, and it was through Professor Guth's instruction I was able to once more realize a passion I thought I had lost."
Mathematics Research Affiliate Sanjoy Mahajan calls Larry Guth "a wonderful colleague [and a] deep mathematical thinker" and affirms that he "teaches students how to think like a mathematician."
"There is no one more deserving of such an exceptional award," concludes Atia. "Throughout my undergraduate career … Professor Guth has been a source of knowledge, passion, and reassurance. He is a model educator and I cannot imagine someone more qualified to be a Margaret MacVicar Faculty Fellow."
Elsa Olivetti
"It is an overwhelming honor to be selected as a MacVicar Faculty Fellow, particularly in this year when each of us has had to transform both our teaching and our learning in profound and unprecedented ways," says Elsa Olivetti, the Esther and Harold E. Edgerton Career Development Associate Professor.
Innovation is a key tenet of education at MIT and is a critical part of professor Olivetti's subjects. Department of Materials Science and Engineering (DMSE) head Jeffrey Grossman remarks of her experimentation in lecturing, curriculum building, mentoring, and more, "[She] is in a class by herself … a brilliant teacher with an uncanny ability to keep the students on the edge of their seats."
Olivetti received her PhD in materials science and engineering from MIT in 2007 before securing a position of postdoc a few months later. She subsequently worked as a research scientist in the Materials Systems Lab from 2009 to 2013 and began teaching in 2014.
Olivetti's research addresses environmental issues such as sustainability, recycling-friendly materials, and waste disposition, which have significant real-world implications. After joining Course 3, she was tasked with creating a new subject in the area of industrial ecology and materials from "scratch," which rolled out with flying colors in 2014.
Elsa Olivetti's work underscores the importance of caring for undergraduates as a whole, and what most stands out from their testimonials is her positive spirit and compassionate demeanor. "Professor Olivetti's classroom was one of the most supportive learning environments at MIT," says Rahul Ramakrishnan, a recent Course 3 alumnus. Another calls her "universally loved by all undergraduates."
2020 MacVicar Faculty Fellow and DMSE Associate Professor Polina Anikeeva confirms that while Olivetti's high teaching scores speak to her gift as an educator, "what makes her absolutely unique is the extra mile (more like an extra marathon…) [she] goes to advance undergraduate education and well-being at the level of the department and the Institute."
Olivetti received the Earll M. Murman Award for Excellence in Undergraduate Advising in 2017, the award for "best DMSE advisor" in 2019, and the Paul Gray Award for Public Service in 2020.
In order to assist students in finding employment, Olivetti established the Course 3 Industry Seminars, pairing undergraduates with individuals working in careers related to 3D printing, environmental consulting, and manufacturing. Olivetti also champions the issues of diversity, equity, and inclusion and incorporates them into her curriculum.
"Her approach is visionary," says materials science and engineering Associate Professor James LeBeau, "The result of her work serves as the model for materials science and engineering across the country and the world." Moreover, Olivetti has continued to innovate during the pandemic by spearheading a pilot community on Canvas for faculty to share strategies, recommendations, and best practices for digital and remote learning.
On working with MIT students, she is full of optimism and inspiration: "their humble, creative persistence gives me hope that we actually have a shot to take on the pressing challenges we face today."
Michael Short
Creative, dedicated, and enthusiastic, Michael Short is an associate professor in nuclear science and engineering (NSE) and, according to his colleagues, "a leader in the field of nuclear materials."
He received his BS, MS, and PhD from MIT, joined the department in 2005, and became an assistant professor in 2013. He has been recognized with the Joel and Ruth Spira Award, the Junior Bose Award from the School of Engineering, and the Earll M. Murman Award for Excellence in Undergraduate Advising.
Short's research interests include fouling and its prevention, nondestructive evaluation (NDE), and radiation damage and effects, and he has spent more than a decade in the fields of nuclear materials, microstructural characterization, and alloy development.
A unique element of Short's classes is his imaginative, hands-on approach. For example, in 22.01 (Ionizing Radiation and Nuclear Engineering), students have the ability to irradiate their toenails in the MIT Nuclear Reactor Laboratory to learn how much arsenic they have in their bloodstream.
Short's students say that his teaching impacts are nothing "short" of inspirational, musing that he "never sets 'ceilings' for the performance of his students" and gives them space to fail. Third-year PhD student Jonathan Paras remarks that Short is "among the very few at the Institute who embody integrity, student-centric focus, and the eccentric hacker spirit that MIT has become known for."
Michael Short is also deeply committed to curricular innovation and solving complex environmental issues. He is currently working on the problems of climate change and renewable energy through a NEET thread. He also developed the 22-ENG major to provide curricular flexibility, implemented a new prototyping focus to 22.033 (Nuclear Systems Design Project), and substantially revamped 22.01 (Introduction to Nuclear Engineering and Ionizing Radiation).
Much of Short's work in these two subjects set the stage for wide-ranging improvements to the Course 22 curriculum by "futurizing" undergraduate education through a "context-first" approach that additionally addressed the problem of low enrollment within the major itself.
Associate Provost Richard K. Lester says, "He is a force of nature, and his impact on the NSE undergraduate program has been transformative."
Among his most impressive accomplishments is his expansion of the department's UROP program. Professor of nuclear science and engineering Jacopo Buongiorno notes, "[Short] stimulated the faculty to develop and continuously update a rich portfolio of UROP projects and made it easy for students to connect with the faculty through the online UROP system that he created."
Buongiorno goes on to say that Short's "energy and creativity, as well as intellectual and emotional connection to UG [undergraduate] students, are second to no one. Simply put … [he] is an unstoppable, inexhaustible machine."
On being named a 2021 fellow, Short says, "I was absolutely thrilled to be selected, since as an undergrad and grad at MIT I had the distinct pleasure to take courses from a great number of MacVicar Fellows … To be selected to join their ranks … is an enormous honor."
Michael Yaffe
Michael Yaffe is the David H. Koch Professor of Science, professor of biology and biological engineering, and director of the MIT Center for Precision Cancer Medicine.
After completing his undergraduate degree at Cornell University, he received his MD and PhD from Case Western Reserve University. He has been a member of the Course 7 faculty since 2000 and a member of the biological engineering faculty since its inception.
Yaffe has taught 7.05 (General Biochemistry), an important core subject, since 2001. He also developed 7.10 (Physical Chemistry of Biomolecular Systems), and his work on a 9th edition of "Molecular Cell Biology" has become a primary textbook used by several undergraduate courses.
Yaffe's research extends across multiple disciplines including materials science, biophysical chemistry, and medicine. He also runs a highly esteemed cell biology and cancer laboratory and serves as physician and trauma surgeon.
"He offered to let me shadow him on his surgeries," writes one student. "I have not had another professor before or since who was so invested in helping me explore the entirety of my academic interests." MacVicar Faculty Fellow and professor in the department of biological engineering Linda G. Griffith additionally praises Yaffe's "unusual ability to straddle the basic science and clinical universes and to translate science into practice."
Associate professor of biology Matthew Vander Heiden applauds Yaffe's ability to do it all: "It is difficult to balance … the demands of a research laboratory and teaching responsibilities, but somehow Michael finds a way to take care of some of the sickest patients in Boston … and is among the best educators at any university."
Michael Yaffe's teaching style draws on this twin — academic and clinical — expertise, and his classes often include physical props such as Styrofoam balls, colored balloons, and cardboard constructs to help students visualize different structures.
Department head and professor of biology Alan Grossman remarks that Yaffe "mixes rigor and showmanship while presenting cutting-edge findings and science history, all combined into a pedagogy that is captivating and effective. He is an educator in the style of some of MIT's most magnificent professors who have raised the level of lecturing to an art form."
In addition to serving as a professor and physician, he is actively involved in MIT's ROTC program and served in the Middle East as a member of the medical corps of the armed forces reserve. ROTC colleagues called him an "exemplar of the intersection of the military and academia."
"Yaffe is one of the select few professors at MIT that everyone should get a chance to know," confirms another student, "as he truly changes the way you understand, view, and approach the world."